NFL's Two Health Crises Could End With One Drug, Says Ex-Player
'Let's not live in stigma and deny athletes who need healthier alternatives."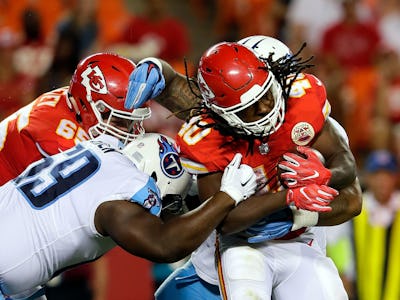 Getty Images / Jamie Squire
A brand new season of the NFL began on Thursday night as the Kansas City Chiefs face off against the New England Patriots at Gillette Stadium. The two massive health crises looming over the league, however, are nothing new. Somehow, CTE and opioid addiction remain unaddressed, even after scientists dropped a massive study in July showing that nearly 100 percent of ex-NFL players' brains showed evidence of the severe brain condition CTE, and despite calls from physicians to curb players' use of addictive opioid painkillers for their chronic pain.
Amid the league's baffling inertia, an ex-NFL star who got out of the game before it could do severe damage continues to champion a simple solution to both these health issues: Marijuana.
Eugene Monroe, an ex-offensive tackle for the Baltimore Ravens, has advocated for marijuana as a potent alternative to painkillers and a brain protectant with great potential since he was dismissed from his team in 2016 for his high-spirited advocacy.
"We have some issues we need to solve, and the NFL needs to look at marijuana," he tells Inverse. "If the NFL officials believe that science is wrong, well, we can look at that. Let's find out. Let's not live in stigma and deny athletes who need healthier alternatives."
Monroe's claims may go unaddressed by the NFL, which staunchly refuses to allow marijuana use among its players, but they are supported by plenty of new research.
In April, researchers showed in a Drug and Alcohol Dependence study that legal states have much lower rates of opioid abuse, supporting the idea that marijuana can be considered an alternative to opioids. In August, an article in Harm Reduction Journal corroborated that finding, showing that the "substitution effect" is already underway among people trying to end addiction in legal regions and suggesting that marijuana might prevent the addiction cycle from beginning in the first place.
"If patients never start using opioids, there is no risk their use might progress to dependence or overdose," wrote the paper's author, researcher Philippe Lucas from the Centre for Addictions Research of British Columbia.
In a job where pain is in the "job description itself," Monroe insists that finding an alternative is paramount. "Rapidly, we're understanding that our players are becoming addicted," he says.
Meanwhile, as the CTE crisis in the NFL looms, research into marijuana's ability to protect the brain has continued, albeit slowly. "There's a government patent that actually says that they found marijuana can be neuroprotective in the event of traumatic brain injury," explains Monroe, citing U.S. Patent No. 6,630,507, which was granted to the U.S. Department of Health and Human Services in 2003 to cover non-psychoactive cannabinoids' potential use as a brain protectant. That patent remains a controversial subject, as many have pointed out the inherent hypocrisy in a government that both labels marijuana as a drug with no medical use as well as holds a patent for its potential therapeutic utility.
Nevertheless, recent research, like the 2016 review in Behavioral Pharmacology calling cannabidiol (CBD) from marijuana an "interesting" drug to treat Alzheimer's or the 2014 Psychopharmacology study showing that chronic CBD treatment alleviates cognitive issues in mice with Alzheimer's-like disease, support Monroe's case.
A high-CBD strain of marijuana known as Charlotte's Web, initially developed to treat seizures, has caught the attention of other NFL players for similar reasons.
In general, the research in this field shows that CBD somehow prevents the buildup of tau, a protein that kills neurons and leads to brain disease when it clumps together. Alzheimer's disease is caused by a buildup of tau, and it's also suspected to be a major part of the brain damage in CTE.
"Who knows what may be in store, if we're able to find out that we do have some real applications for [traumatic brain injuries] and concussions," says Monroe.
Despite the avid campaigning of Monroe and a handful of other ex-players, the NFL is about to start its 98th season in willful ignorance. "Another season's beginning and nothing's been changed," Monroe says. "The conversation needs to continue and intensify."
The most obvious issue in the campaign to allow marijuana in the NFL, however, is the fact that the people who best support it are, like Monroe, no longer in the league, or like the patients involved in July's CTE study, dead. "I believe at some point active players need to step up and get involved," Monroe says.
Between the discrimination scandal surrounding Colin Kaepernick and the league's insistence on policing itself, the NFL has a lot to deal with in the short-term. But looking further ahead, allowing marijuana to be used within the league seems like a small price to pay for some assurance that there'll be any players left to play in future seasons of the sport.