Marvel Won't Include a Popular Character in a Super Unpopular Show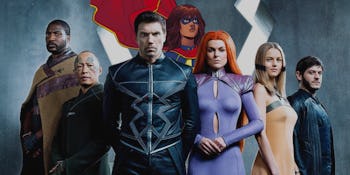 Marvel
If the reviews are anything to go by, the Inhumans TV show is one of the worst things that Marvel has made in recent memory. It's probably good, then, that Marvel has no plans to include one of its best new creations, Miss Marvel, in the critically panned show.
On the red carpet for Inhumans's underwhelming IMAX premiere, That Hashtag Show spoke with the head honcho of Marvel TV, Jeph Loeb, and asked if Kamala Khan might make an appearance one day.
"At the moment there's no plans for that to happen. That doesn't mean it [won't] happen," Loeb responded.
Given that it's looking like there might not even be a second season of Inhumans, not including Miss Marvel seems like a given. But, even if Inhumans does somehow survive to have a sophomore season, inserting Miss Marvel into the Inhuman royal family's drama would be a weird way to introduce the wildly popular comics character. Sure, Miss Marvel is technically an Inhuman, since that's how she got her powers, but she has very little to do with Marvel's dark horse franchise. Should the hero ever make it to the MCU, either on TV or, preferably, on the big screen, she would do well to disassociate herself with the Inhumans.
Inhumans premieres on ABC on September 29.