Introducing Ms. Marvel Could Make 'Inhumans' TV Show Dope AF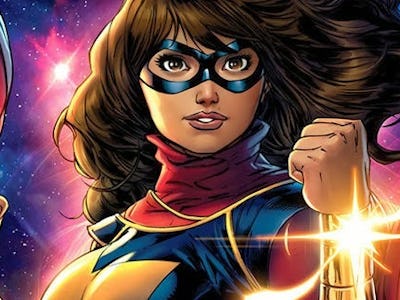 The Mary Sue
King Black Bolt of the Inhumans will need someone to do the talking for him when he and his family are on the small screen next year. There's no one better in the Marvel world right now for that job than Kamala Khan's Ms. Marvel.
The November 14 announcement of the Marvel's The Inhumans TV show has the world guessing. Aside from a gushing promise that the first two episodes will be airing in IMAX theaters for two weeks in September 2017, the powers that be have given nothing away. There are few details or no casting announcements to be seen or heard so far, which means one thing: wild speculation.
Okay, not wild speculation, since there's a pretty healthy amount of content for the Inhumans creators to draw from in the form of Marvel's Inhumans comics. The groundwork is all there, and it's pretty easy to try and figure out where the focus will be. Marvel said its new ABC show will have its attention hovering around the royal family of the Inhumans, led by King Black Bolt and Queen Medusa.
If Marvel is smart, though, it'll put some effort into the story of Jersey native Kamala Khan, the Pakistani-American teenager with latent Inhuman morphing and healing abilities otherwise known as Ms. Marvel. Kamala is a poster child of diversity for Marvel as a young woman of color and a practicing Muslim. She took inspiration for her superhero identity from her personal hero, Carol Danvers's Captain Marvel, and is the fangirl-turned-protagonist everyone needs.
Ms. Marvel's abilities came to fruition after a bomb released by King Black Bolt lets loose a cloud of Terrigen Mist over Jersey City. It took her a while, but she's gotten this hero thing under control now. Despite Black Bolt changing everything about Kamala's life with a bang, it was actually with the help of the royal family — specifically, of Queen Medusa and the pseudo-dog Lockjaw — that Kamala was able to begin her hero's journey.
And, with her newfound powers, Ms. Marvel teamed up with some other young heroes in Marvel's Champions series. She befriended Miles Morales (Spider-Man), Sam Alexander (Nova), Amadeus Cho (The Hulk), Viv Vision, and a young Scott Summers (Cyclops) after the disenfranchisement of the Avengers during Civil War II. The group takes on bad guys and poses for the occasional selfie as Marvel's attempt at reaching out to a younger, more diverse audience.
Asking for a full-on Champions series is a lot. But it's really not too much to request that the upcoming ABC show shake things up with Ms. Marvel's growing pains. If Marvel is trying to reach out to a younger audience — and with The Inhumans residing on ABC rather than on Netflix, that's the impression being given — then a younger and more diverse cast (including Kamala) would be the answer.
Ms. Marvel and the gang are certainly wrapped up enough in the royal family's story to credit some screen time. So be on the lookout for more news about Marvel's The Inhumans as we approach the 2017 air date.