Burning Man 2017 Created a Surge of Interest in Outdoor Porn
Now that porn is in tents!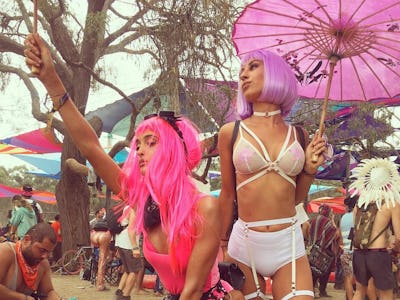 Chaostrophic
When the Burning Man festival descended on Black Rock City, Nevada, this summer, hundreds of lit, stylish "burner" attendees inspired locals to search for a very specific kind of porn.
To a "burner," Burning Man is about dropping acid, wearing minimal clothing, meeting other chill people, and building a free-wheeling, sex-positive community in the desert for a few days. Every year, an estimated 70,000 people show up in the Nevada desert hoping to get freaky and just like … become one with the universe, man, ya dig?
In order to find out what locals outside Burning Man think about the festival, you just have to study what people in Black Rock City and the surrounding areas were searching for online.
According to Pornhub Insights, local interest in porn taking place outdoors skyrocketed during Burning Man. The phrase "festival public sex" rose in popularity by 833 percent, and phrases like "sex festival," "burning man orgy," and "orgy dome" weren't far behind. It seems Burning Man inspired many, many people to look for a certain aesthetic on Pornhub — sex in tents, sex at music festivals, group sex, and orgies — and the site delivered.
Looking at the overall activity on Pornhub, in the local area surrounding Burning Man before, during, and after the festival, you can see how horny people were in advance. Hopefully, that means people were excitedly searching for outdoor porn scenes on their way to Burning Man, then engaging in IRL orgies at the festival, and immediately searching for the same kind of porn after leaving.
Pornhub Insights has demonstrated that people tend to feel less interested in porn during huge cultural events, including the Game of Thrones Season 7 premiere and the NBA Finals. But in those cases, users are forgoing masturbating to porn in order to do other, non-sexual stuff with their time. In the case of Burning Man, it's possible that locals stopped watching porn because they were doing the stuff they had been watching in real life. That's the magic of Burning Man.
See also: Pornhub Was Shocked at Their Viewer Numbers during the Solar Eclipse
If you liked this article, you might like this video about "the iTunes of blowjobs."