11 Perfect Reactions to the Bonkers Red Sox-Yankees Apple Watch Story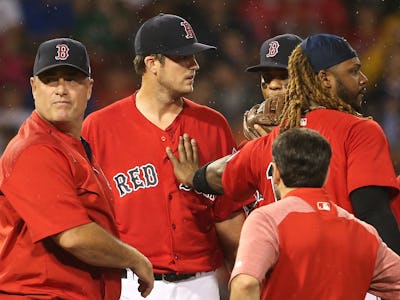 Getty Images / Adam Glanzman
The Boston Red Sox found themselves embroiled in a cheating scandal Tuesday when the news broke that the New York Yankees manager had brought evidence of a sign stealing scheme to the Major League Baseball commissioner's office.
Many say that sign stealing is an accepted, and even sometimes celebrated, part of traditional baseball. But the additional Apple Watch element, which allowed Red Sox staffers and players to trade footage or reveal information to players impossible to capture sans tech, takes the behavior over to cheating territory, according to The New York Times.
Fans and haters alike quickly took to the internet to voice their opinions about the Red Sox's foul play, and whether or not this dirty conduct could be a strike-out for the team, who currently hold the first place slot in the American East League, just ahead of the Yankees.
Some targeted Red Sox manager John Farrell, who said in response to the cheating allegations: ""The only thing I can say is it's a league matter at this point," in a Tuesday interview.
Other commenters saw commonality between this incident and other New England franchises who've been accused of cheating in recent years, such as the Patriots' Deflategate scandal in 2015.
Some people took the opportunity to point out the Red Sox's less than stellar performance, in spite of this potentially illegal advantage, or to disrespect the Apple Watch, the eminently mockable timepiece.
Still others reveled in the absurdity of the entire scandal, or simply yawned in its face.
But according to one user, if you were to pick a team that deserved to be cheated against, the Yankees might not be the worst option.
The MLB commissioner has yet to announce what, if any, penalty the Red Sox will face for this infraction. But either way, it seems as though this high-tech cheating strategy was a real swing and a miss.