Scientists Find Brain Area Linked to Hearing Voices in Schizophrenics
And they're learning how to treat it.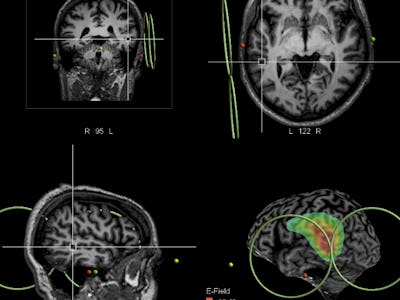 University of Caen
A new study has shown that for patients with schizophrenia, stimulating a specific area of the brain with magnetic pulses can decrease their likelihood of hearing voices.
The early clinical findings will be presented on Tuesday at the ECNP Congress in Paris, Europe's premier scientific meeting for disease-oriented brain research.
A French research group targeted the brain's left temporal cortex, an area that they precisely identified as being involved in the experience of hearing voices. The exact area — the projection of the ascending branch of the left lateral sulcus that crosses the left superior temporal sulcus — is a part of the brain that's associated with language. Using Transcranial Magnetic Stimulation (TMS) — a process that involves zapping specific areas of the brain with electromagnetic pulses — researchers gave 26 patients a series of 20 Hz high-frequency pulses over 2 sessions a day for 2 days. They also administered a sham treatment to 33 other patients with schizophrenia, and then compared the outcomes.
When patients were re-evaluated two weeks later, researchers discovered that 34.6 percent of the patients treated with TMS had seen more than a 30 percent decrease in their auditory hallucinations — a significant response, according to a standard reference known as the Auditory Hallucinations Rating Scale. The sham treatment patients showed an improvement of 9.1 percent.
The first controlled trial of its kind, this ground-breaking study shows that TMS administered to this particular brain area has promising results, says Professor Sonia Dollfus, a professor at the University of Caen, CHU, in France.
"It seems that we now can say with some certainty that we have found a specific anatomical area of the brain associated with auditory verbal hallucinations in schizophrenia," she says.
"We have shown that treatment with high frequency TMS makes a difference to at least some sufferers. Although there is a long way to go before we will know if TMS is the best route to treat these patients in the long-term".
Along with delusions, muddled thoughts, and hallucinations, hearing voices is a symptom that around 70 percent of people with schizophrenia have at some point in their life. While further study is needed, the findings make TMS a welcome addition to the range of treatments available to treat such an enigmatic mental disorder.