I Went to Budapest's Most Famous "Ruin Bar"
If you're looking for a weird party in Hungary, this is your first and last stop.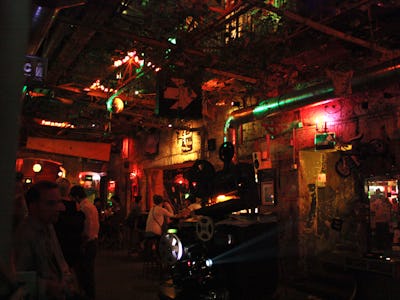 Flickr / daniel.edwins
When I first walked into Szimpla Kert during a trip to Budapest last month, I quickly realized this bar, the first stop of the night, would also be the last.
To my right was a standard bar, surprisingly crowded by a throng of young Hungarians looking to have some fun on a Sunday evening; on my left was a hookah bar filling up fast with smoke and conversation; in front of me were a pair of other rooms flanked around the main hall, with tables and chairs for other patrons; and directly in front was a darker section with what looked like shades of heads bopping back and forth to some kind of rhythmic European beat. God only knows what located beyond that ocean of people.
And this was just the first floor. There was so much more to explore in this place, whose walls were caked in graffiti and bad art and stickers and punk paraphernalia that seemingly served no other aesthetic purpose than "hey, this shit looks dope, put it on the wall."
No city can claim unique greatness unless it boasts a bar scene that's representative of such original thinking and creative energy. For a historic beacon like Budapest, that sometimes means stripping out the history from certain setting and injecting artistic bombast and youthful exuberance.
That's essentially what paved the way for Budapest's famed "ruin bars" — an array of nightlife hotspots located throughout the city, transformed from derelict and abandoned spaces into wonderful spots to meet friends for drinking and dancing before the inevitable dipset to someplace else.
There are about 21 official ruin bars strewn around the city, plus many other unofficial ones that operate in a more "pop-up" manner. They've been established in a variety of different places, from quaint little spots outdoors, to vast, empty warehouses. But no ruin bar is a better summation of the trend than the first one: Szimpla Kert.
When Szimpla Kept was first founded in 2001, it didn't even have a permanent spot. For three years, this ruin bar, basically a collection of young Budapestians looking for cheap drinks and a good time, moved around the city, turning different abandoned spots into casual and noisy makeshift dive bars.
Since settling permanently into the Jewish Quarter of Budapest in 2004, Szimpla Kert has blossomed into one of the most popular bars in the city, for locals and tourists alike. It certainly takes the "ruin" part of its moniker to heart — the furniture is old and mismatched; the dim lighting makes the stone walls and their artwork appear like cavemen drawings; plastic cups are used in favor of glasses; bathroom doors have barely any labels except for crudely drawn figures of men or women sketched on the doors with a permanent marker. Each bar possesses a wide array of beers — Hungarian crafts as well as European standards alike.
So of course the skinny-jeaned continue to flock to Szimpla Kert.
But there's more to love about this bar than just the cheap drinks and grime. When you walk upstairs, and find yourself moving through the bars and the rooms and searching for a table for you and your friends, you get a pretty awesome glimpse of why Szimpla Kert is appealing to more than just hipsters. Each room has enough variety to compel people to drift around and keep themselves from getting too comfortable.
Besides such unexpected surprises as the hookah room, there's an outdoor garden located on the first floor which encourages a much more casual and quieter environment. The middle atrium of the second floor is situated right above the garden, and you can peer down below through a mesh wire in the center. That atrium, on both floors, is stocked with dozens of large plants and ferns and vines stretching out through the area and giving it a lush vibe. Szimpla also has a kitchen, making the garden an excellent place to come out to enjoy a meal if you're hungry.
The back wall of the garden is a popular spot to catch film screenings as well. On this given Sunday night, a silent black-and-white movie was projected on a brick wall in the back — a nice piece of moving art for anyone with the volition to step back and take in the atmosphere.
Another spot on the first floor — the darkness which I perceived when I walked in — is the concert and dance hall. Szimpla is definitely not a ratchet club, but it does retain, from what I've heard, a pretty robust program of bands and DJs who come in on any given night to play for the patrons. At the time I was in the bar, a steady stream of European pop seemed to permeate through the entire bar, although the noise of the crowd drowned out a lot of the tunes anyway.
The second floor is even more varied. There are many more rooms, each one illuminated with a different set of lights and defined by a different electric set of artwork and interior objects. As a first-timer, I felt like I had stumbled into a strange, post-modern art gallery. All I wanted to do was softly drift from room to room, and admire all of the weird shit I was watching.
My group and I sat around for a bit taking in the atmosphere and imbibing, but it was clear for us there was no real reason to leave for another bar, despite how crowded it was. With so much sensory overload packed into one location, a single destination like this would be enough for the night.
Szimpla Kert is just one of many other ruin bars, but being the first one, it's the bar that wrote the playbook for the rest. The ruin bars as a whole generally skew towards cheap drinks and fare, and make the whole thing worthwhile by pushing forward a flippant, hooligan attitude many young people would find attractive. It's very easy to walk into a ruin bar and feel comfortable, given the lack of any standard code of style for the scene. An entire trip in Budapest could be built strictly out of a ruin bar crawl — and it's very unlikely one would be disappointed.