New Massive Millennium Falcon Set Has Over 7,000 Pieces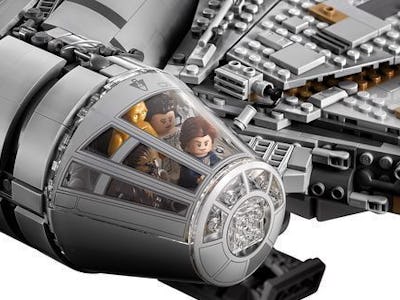 YouTube.com/Rajman Gaming HD
A cinematic franchise as epic as Star Wars deserves an equally epic Lego set. This fall, the biggest Lego set in history will arrive in stores in the form of the Millennium Falcon, along with a whopping ten (!!!) minifigs, including two Han Solos (The Empire Strikes Back and The Force Awakens). This isn't the biggest Lego set ever made, but it is the biggest ever packaged and released for retail by Lego.
Available on October 1 and retailing for a serious $799.99, Lego's new "Ultimate Collector Series" Millennium Falcon will become the largest Lego set ever with 7,541 pieces. The whole set, which measures 8 inches tall, 33 inches long, and 22 inches wide, has a whole interior with a gunner's seat and cockpit capable of seating four Lego minifigs, meaning Star Wars fans can recreate their favorite moments in itty bitty block form. The interior even includes a recreation of the Dejarik holographic game, which is just nuts.
The set will eclipse Lego's last heavyweight champion, the Lego Taj Mahal set, which came with 5,922 pieces. The new Millennium Falcon also adds to its piece count by including two Hans (young and old) as well as Rey, Finn, BB-8, Leia, Chewie, C-3PO, a Mynock, and several Porgs, those cute owl-otter things that will debut later this year in The Last Jedi.
While the new Millennium Falcon set is huge, it's dwarfed by some real life accomplishments. In 2013, Lego took it upon itself to build the biggest model in history: a life-sized X-Wing from Star Wars, which collected more than 5 million individual pieces and required 32 designers working 17,000 combined hours. It wasn't available for retail, natch, but it was available for folks to gawk at in Times Square.
The last Lego Millennium Falcon, released in 2007, was a little smaller at 5,197 individual pieces, but it also packaged minifigs of Luke, Leia, Obi-Wan, and (of course) Han and Chewie in their looks from 1977's A New Hope.