Superman Broke Wonder Woman's Wrists in Canceled 'Justice League'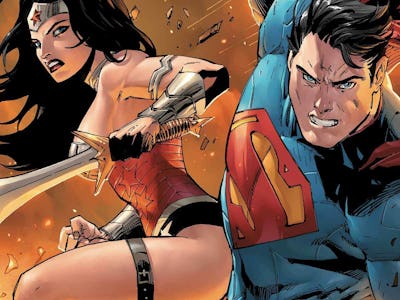 DC Comics
Fans who think Man of Steel and Batman v Superman were violent films are unprepared for how brutal the canceled Justice League Mortal would have been. In a new interview, actor Jay Baruchel (This Is The End), who was signed on to play Maxwell Lord in George Miller's canceled Justice League project, detailed some of the most gruesome moments in the DC film that almost was.
In a new interview on MTV's podcast Happy Sad Confused, Baruchel revealed that his Maxwell Lord would have turned Superman evil, resulting in a huge fight where Superman breaks Wonder Woman's wrists. "I turn him into full red-eye Superman, and then there's this big ass fight between him and Wonder Woman, where he breaks her fucking wrists and shit," Baruchel said. "I die halfway through the movie, and then my consciousness is uploaded into a fucking mainframe and I'm an evil computer."
Baruchel also revealed that Wonder Woman's cinematic debut would have been equally brutal, as the Amazonian princess would behead a minotaur. "The Minotaur has a battle-ax in his hand and she just rushes him. All the Amazons are there cheering her on, and she just beheads him. Gets off her steed and holds up the Minotaur thing, and doesn't say a goddamned thing."
As Zack Snyder/Joss Whedon's Justice League movie approaches for its theatrical release this November, the what-ifs of Miller's Justice League movie continue to intrigue DC movie fans. Canceled due to the Writer's Strike of 2007, Miller's Justice League Mortal would have starred Armie Hammer (The Social Network) as Batman, Common as Green Lantern, and D.J. Cotrona (From Dusk Till Dawn: The Series) as Superman. Megan Gale, who later appeared in Mad Max: Fury Road directed by Miller, would have played the minotaur-murdering Wonder Woman.
As dark and bleak as Snyder's vision for the DC cinematic universe has been — Affleck's vengeful Batman is still tough to swallow — maybe it's best that Superman never shattered Diana's wrists.
Justice League will be released in theaters on November 17.