'Mad Max' Director's 'Justice League' Was Apparently Dope AF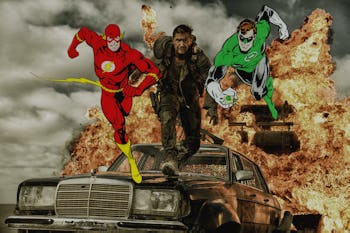 Warner Bros. Pictures
Before George Miller returned to the wasteland in 2015 for Mad Max: Fury Road, the Australian auteur was attached to a superhero movie titled Justice League Mortal. The 2007-08 Writer's Guild Strike and success of Christopher Nolan's The Dark Knight put the kibosh on the project, but actor/rapper Common — who was to play John Stewart, aka Green Lantern — recently expressed his disappointment about the whole thing.
While on the press tour for John Wick: Chapter 2, Common opened up about his role and Miller's vision for Justice League Mortal. "I was cast and we started rehearsals for the film," Common said. "I went to Australia. I tried on the outfit and everything. It was heartbreaking, but it happened." So somewhere out there, there are photos of Common in a Green Lantern costume.
Common then described the script as "super dope" and "intricate." "And knowing George Miller was going to do it, you knew it was going to have that raw edge." Common said it had "all of the characters really involved" who had moments that allowed audiences to connect with them individually. "It was a strong piece," he added.
The performer didn't rule out playing the character in the future but acknowledged it wouldn't be his decision, but Warner and DC's. "But it would be an incredible honor, and I would be geeked for that character and that role. I would go to the highest with that role," he said. Maybe Common will get his chance: A new Green Lantern movie, Green Lantern Corps., is on the way.
Zack Snyder's Justice League will be released on November 17.