The Hardest Pokémon to Catch Will Be Easier to Nab in 'Pokémon GO'
Who let the Legendary dogs out?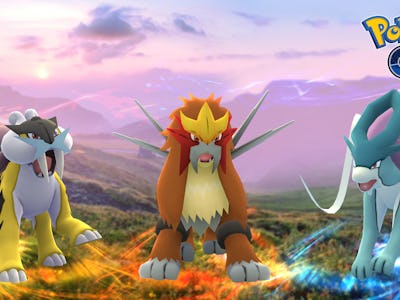 The Pokémon Company
Fans won't need to whip out a highly-coveted Master Ball this time around to catch one of the Legendary dogs in Pokémon GO, because Raikou, Entei, and Suicune are going to be a little easier to find in the wild lands of your town or city. The latest Pokémon GO event gives you the chance to catch each of the "Three Legendary Beasts" over the next three months in Raid battles.
The official Pokémon GO Blog announced Thursday that Raikou, the magnificent Electric beast, will be discoverable in Pokémon GO for players in North America for one month. Entei and Suicine will roam about Europe and Africa or the Asia-Pacific region, respectively, during that time.
On September 30, Raikou will abandon us and one of the other dogs will rotate in. Either Entei or Suicine — most likely the latter — will make their way to the Americas for a month-long cycle. Then, after Halloween, the last legendary dog will bark his way here.
This shuffling cycle is reminiscent of how difficult these Legendary Pokémon were to catch in Pokémon Gold and Silver and the future iterations of those games. In all of the main Pokémon games, these dogs were some of the most notoriously difficult to catch. After initial encounters at a specific in-game location, they'd wander about the entire Johto region, spawning in random places. Then, they'd flee instantly when you encountered them, making them annoying to deal with.
Thankfully, Pokémon GO seems like it's offering a less frustrating, albeit presumably time-consuming alternative. Keep in mind that they call them "Legendary Beasts" for a reason, and they might be difficult to catch.
Catch Raikou right now in Pokémon GO until September 30.