How to Stream 'Star Trek: Discovery' on Netflix and CBS All Access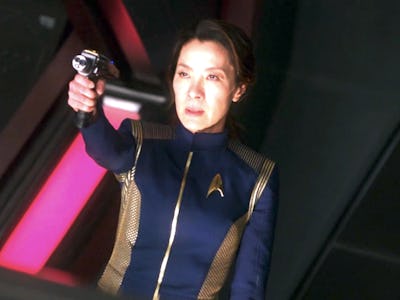 CBS
On Sunday, Star Trek finally made its return to TV after 12 years with Star Trek: Discovery. Action-packed, and surprising at every turn, the new Trek is binge-worthy in every single way. And Netflix and CBS All Access are the two biggest resources for watching this bold new series. The very first episode — "The Vulcan Hello" — aired on CBS, but all future episodes won't be on network TV. So streaming is your only option from here on out. And because every one of these episodes is ending on a cliffhanger, you'll want to start watching ASAP.
Here's how to stream Star Trek: Discovery on Netflix and CBS All-Access around the world.
The First Episode Already Premiered on CBS
Star Trek: Discovery premiered its first episode on CBS at 8:30-9:30 p.m. Eastern on September 24. It is not known at this time if they will air the first episode again on the channel.
CBS All Access for the First Episode and Everything Else
Immediately after the CBS premiere, both the first and second episodes of the series were made available on CBS All Access, CBS' streaming service. In addition to the second episode, subsequent episodes will only be available through All Access. CBS All Access will only air the first half of the 15-episode first season in September, though. The second half will show up in January.
Netflix for U.K. Viewers
Within 24 hours of it being released on All Access, the series will be distributed on Netflix in 188 countries, including the U.K.
Netflix if You Can Fool Your Computer Into Thinking You're in the U.K. (or Any of Those 188 Countries)
This is obviously not recommended at all, but if you can trick your computer into thinking you're in a country that can stream Star Trek: Discovery on Netflix, you'll be able to watch it on the platform.
You can do this is by downloading software which allows you to connect to a virtual private network (VPN). The primary function of a VPN is to provide secure browsing services, but by allowing you to change your location, they also give you the ability to unlock blocked content in your country.
Space and CraveTV for Canadian Viewers
In Canada, the series is available via Bell Media's Space channel and OTT streaming service CraveTV.
See also: How to Write a Book About 'Star Trek: Discovery' Without Having Ever Seen It.