Joss Whedon Gets Screenwriting Credit on 'Justice League'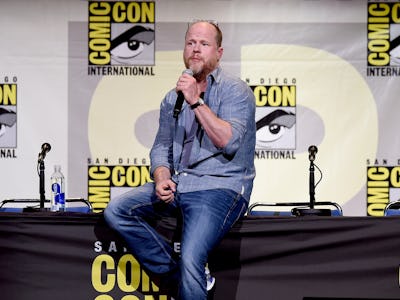 Getty Images / Kevin Winter
When Joss Whedon took over for Zack Snyder to direct the reshoots for Justice League, authorship of the movie became a question. Now, Whedon's involvement seems to have only intensified, as the Buffy the Vampire Slayer creator is now a credited screenwriter on the film.
In its fall movie preview released on Tuesday, Warner Bros. unveiled the credits for Justice League, which is still slated to hit theaters on November 17. While Snyder is still credited as the director and is co-credited for the film's story, Whedon is listed as one of the screenwriters, alongside Chris Terrio, the original writer who won the Oscar for Argo and wrote last year's Batman v Superman: Dawn of Justice.
It may not seem like much, but it's a big deal that Whedon has a writing credit on the film. It suggests that Whedon's contributions are significant enough to warrant recognition for Whedon's part in shaping the movie during its reshoots. While Whedon's reshoots have so far been described as only "fine-tuning" Snyder's work, other reports suggest that the reshoots have featured had rewriting in order to retain a consistent tone. It was always kind of weird that Snyder, who has a bleak vision for DC's cinematic universe, chose Whedon, whose previous TV shows like Firefly and movies like Marvel's The Avengers feature wildly more diverse tonal ranges and humor.
The full credits for Justice League can be found below.
Director: Zack Snyder
Writers: Story by Chris Terrio & Zack Snyder, Screenplay by Chris Terrio and Joss Whedon
Based on characters from DC Entertainment, Superman created by Jerry Siegel and Joe Shuster
Producers: Charles Roven, Deborah Snyder, Jon Berg, Geoff Johns
Executive Producers: Jim Rowe, Wesley Coller, Curtis Kanemoto, Chris Terrio, Ben Affleck
Cast: Ben Affleck, Henry Cavill, Gal Gadot, Raymond Fisher, Jason Momoa, Ezra Miller
Justice League will be released on November 17.