Studio Behind 'Skyrim' Reportedly Making a 'Game of Thrones' Game
Bethesda's 'Game of Thrones' game might have leaked through Target.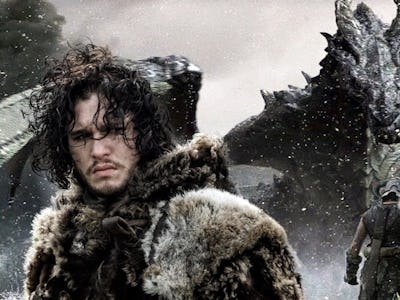 HBO / Bethesda
Sure, there are more dragons in Bethesda's Skyrim than there are in Westeros, but the worlds resemble one another enough that a Game of Thrones video game in the style of an Elder Scrolls title would be a near-perfect fit. If a new retailer leak from Target is to be taken at face value, then it looks like the high-profile video game developer and publisher Bethesda might be creating some kind of video game associated with HBO's smash hit series based on the books by George R. R. Martin.
On Sunday morning, a member of the NeoGAF forums noticed that on Target's official website, a landing page in their "Featured Brands" section sub-labeled "MMBV" has appeared, seemingly reserved for something called "Bethesda : Game of Thrones."
Just about everyone is at least somewhat familiar with HBO's fantasy series based on George R. R. Martin's books, but Bethesda is one of the leading game developers out there when it comes to open-world games. If they were to take their popular game model and apply it to Game of Thrones, then it would be a huge deal.
Bethesda defined the open-world game genre with entries in their Elder Scrolls franchise with Morrowind, Oblivion, and Skyrim. More recently, they also put out the fourth entry in the Fallout series of post-apocalyptic games. Skyrim especially takes place on a continent plagued by dragons, and your character has to kill them to steal their power and fight back.
The structure of these games remains fairly consistent: Players start an epic journey in the game with a main questline, but endless options for wandering around the world entice players in all sorts of directions. A Bethesda open-world game might have players roam around Westeros freely as a customized character. Want to ride a horse from Oldtown to Winterfell, fighting random people along the way? You probably won't be able to get there as quickly as Samwell Tarly, but that would likely be an option. That is, assuming this leak turns out to be true.
Here's a trailer for the recently released Skyrim Special Edition, which might offer a glimpse at what such a game could look like.
Developer Bethesda has not made any sort of comment on the validity of this week, so you might be better off waiting for the final season of Game of Thrones in what will probably be 2019.