Why James Bond Should Be Married in the Next Daniel Craig Movie 
This is riskiest thing the franchise could do next.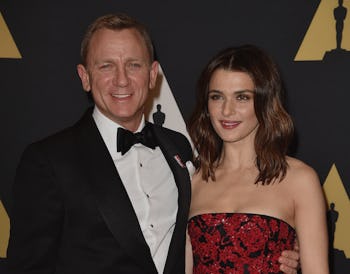 Getty Images / Kevin Winter
Agent 007 has a license to kill, but he isn't required to murder people. In Skyfall, he told Q that part of his job is deciding when not to pull the trigger. As a parallel metaphor, this also means James Bond should be able to decide when not to have meaningless, empty sex. Other than shooting guns and drinking martinis, the other thing Bond is most famous for is his womanizing. But, after meeting Madeline Swan in Spectre, it seemed like Bond had really fallen head-over-cuff-links in love. With that in mind, now is the perfect opportunity for Daniel Craig's Bond to ditch his womanizing ways and actually become a happily married man.
For some diehard fans, a version of James Bond who isn't an obvious womanizer might seem like sacrilege. These folks might tell you that Bond being "unattached" is what defines the character. And yet, there is not only a precedent in James Bond movies for the character to find true love, it's true of the original novels, too.
Ian Fleming constantly had Bond thinking about settling down in his original books. Famously, the novel version of Moonraker ends with Bond being somewhat heartbroken that his partner throughout the entire book — Gala Brand — is already engaged. And in both the book and film versions of On Her Majesty's Secret Service, Bond is married to Tracy Draco, only to have her brutally murdered by Blofeld in the final, and tragic, denouement.
And then, there's the very first Bond novel, Casino Royale. In the character's origin story, James Bond is ready to totally retire from the service because he is in love with Vesper Lynd. Vesper is so important to Bond that he names a special cocktail after her, a drink which you can legitimately order in real life at real bars. Let that sink in: James Bond's first true love is more famous in real bars than James Bond. (And if you're ever in New York, I can tell you about one great bartender who mixes a great Vesper Martini and can talk a lot about Bond while doing it. But I digress.)
The point here is that all the Daniel Craig films began with Bond's search for true love in Casino Royale. Yes, Vesper's death in the film is a little bit different than her suicide in the book, but the effect is the same. And three movies later, in Spectre, Bond is able to fall in love again.
So, why not let him stay that way? For one thing, Lea Seydoux was great as Madeline Swan in Spectre, so having her back as Bond's wife for the fifth Daniel Craig Bond movie would give the movie some automatic star power. But more importantly than that, having Swan and Bond be married, would be the riskiest and most creative thing a James Bond movie has done. Ever.
Instead of watching a cold-blooded anti-hero constantly avenge a murdered lover, why not have Bond's wife be alive? If Bond is married and — gasp — maybe even has a family, then character suddenly becomes a lot more relatable to a lot more people in the audience. He can have it all: the cars, the gadgets, and the girl. Singular. Protecting his wife or perhaps, a child could give the character new and interesting stakes. Plus, it could help correct over six decades of cinematic misogyny, all of which has been gleefully accepted in the name of escapism.
When Daniel Craig told Stephen Colbert that he would return as James Bond for one more film, people cheered and fans celebrated. Part of that is because Craig is great as Bond. But, that greatness is totally connected to Craig's ability to make a somewhat shallow character occasionally feel like a real person. Which means, if Bond was happily married in the next movie, Craig would complete the great work he started with Casino Royale, and leave the world of James Bond better than he found it. Not only does this dashing man have a license to kill, but he's pretty good at figuring out a marriage license, too.
The Next James Bond film is untitled and will be written by Neal Purvis and Robert Wade. It is scheduled to be released on November 8, 2019.