Daniel Craig Tells Colbert He "Can't Wait' to Return as James Bond
Shocking. Positively shocking.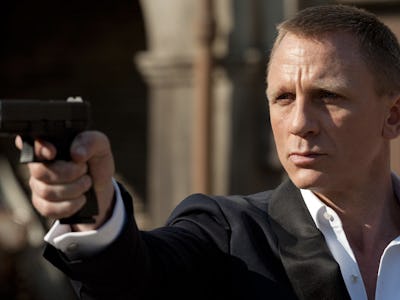 MGM
This article has been updated.
Never say never again! Despite saying that he'd "rather break this glass and slash my wrists" than play James Bond again, Daniel Craig will again be shaken and stirred for another cinematic outing as secret agent 007. The New York Times confirmed Craig's return to the iconic role on July 24. And speaking to Stephen Colbert on Wednesday, Craig said he "can't wait," to start making the new Bond film.
Speaking to Colbert on the Late Show, Craig said that though he'd been "cagey" about the question in interviews, he believed that if he was going to "speak the truth, I should speak the truth to you." Colbert said "Will you return as James Bond?" And Craig responded, smiling and nodding, "yes."
Eon Productions officially announced the next Bond film will hit theaters on November 8, 2019, just one month before the final installment in the current Star Wars trilogy — Episode IX — will be released. This will be the 25th Bond film in the official Eon franchise, though if one counts Never Say Never Again (starring Sean Connery and Kim Basinger) and the 1967 spoof version of Casino Royale (starring David Niven and Peter Sellers) it will be the 27th 007 cinematic adventure. The screenplay will be written by Neal Purvis and Robert Wade, who have screenwriting credit on every Bond movie since the Pierce Brosnan and Denise Richards film The World Is Not Enough. Wade and Purvis successfully "rebooted" Bond in Casino Royale in 2006, Craig's first outing in the role.
The title of the film has yet to be announced, but there is a wealth of original literary material the story could draw from. In recreating Bond's arch nemesis of Blofeld in 2015's Spectre, the film incorporated elements from the original Ian Fleming novels Thunderball, On Her Majesty's Secret Service, as well as the short story "Octopussy." Since Blofeld (Christoph Waltz) was spared by Bond in the final moments of Spectre, the supervillain could return for this next film. Bond also ended his last cinematic adventure by seemingly retiring from being an assassin and rode into the sunset with his supposed true love, Madeleine Swann (Léa Seydoux.) But, if tradition holds, Madeleine might not make it out alive in the next movie.
When James Bond (George Lazenby) found true love and got married to Tracy Draco (Diana Rigg), in the film version of On Her Majesty's Secret Service in 1969, Blofeld had her shot immediately. Hopefully, history won't repeat itself!
Adele has been rumored to be returning to write and perform the theme song for the 2019 Bond film, though that is still unconfirmed. It's also not clear if Seydoux or Waltz will return for their roles as Swann and Blofled, respectively. Though, because Blofeld is a master of disguise — and was played by three different actors in the original '60s films — nobody would really mind if he was recast.
Craig also told Colbert that the reason he'd previously been so hostile about returning to the role after Spectre was that he was tired when he gave that interview and "gave a stupid answer."
The next Bond film will hit theaters globally on November 8, 2019.