Exxon Mobil Misled Americans About Climate Change
Exxon is the largest oil producer in the U.S.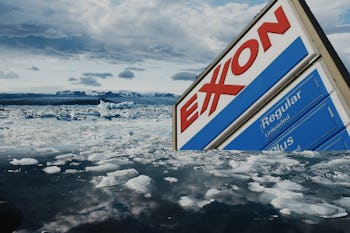 A damning open letter published Wednesday in the journal Environmental Research Letters by a team of Harvard researchers alleges that Exxon Mobil not only knew about the destructive effects of their company on global warming as far back as 1977, they willfully misguided Americans about climate change — despite quietly funding research in that area.
"We conclude that ExxonMobil contributed to advancing climate science — by way of its scientists' academic publications — but promoted doubt about it in advertorials," Naomi Oreskes, Ph.D., and Geoffrey Supran, Ph.D., write. "Given this discrepancy, we conclude that ExxonMobil misled the public."
The letter is the latest blow to Exxon Mobil in the past couple of years. Investigative reporting revealed in 2015 that the multinational oil and gas corporation Exxon Mobil quietly funded climate change research that linked the burning of fossil fuels to global warming, while publicly disparaging that research.
In response to the latest report, Exxon Mobil released a series of peeved blog posts arguing it that it didn't do anything wrong and asked the public to "read all of these documents and make up your mind."
Oreskes and Supran say that Exxon Mobil has "two parallel initiatives" — one that's actual climate science research, and another with is a public relations campaign that will ignore that science to show the company in a complimentary light. While allegations that this has been happening are not new, this paper is the first peer-reviewed, empirical comparison of the company's internal research and public statements, adding credence to previous claims.
Oreskes and Supran examined 187 climate change communications from ExxonMobil that happened between 1977 and 2014. These included peer-reviewed and non-peer reviewed publications, internal company documents, and paid, editorial-style advertorials that were published in The New York Times. They found a pronounced discrepancy between the scientific publications and subsequent advertorials: 83 percent of the peer-reviewed papers and 80 percent of the internal documents acknowledged that climate change is real and human-caused.
However, only 12 percent of the advertorials also acknowledge the reality and cause of climate change, while 81 percent of these ads expressed doubt about whether that fact was true. "In public ExxonMobil contributed quietly to the science," writes the researchers, "and loudly to raising doubts about it."
On Wednesday afternoon, Exxon Mobil lashed back in a tweet, calling Oreskes and Supran "activists" and their research "[p]reposterous & inaccurate … claims masquerading as research."
"Our statements have been consistent with our understanding of climate science," Exxon Mobil said in an official statement. "Rather than pursuing solutions to address the risk of climate change, these activists, along with trial lawyers, have acknowledged a goal of extracting money from our shareholders and attacking the company's reputation."
But Oreskes and Supran point out in their letter that Exxon Mobil's public support of scientific research trivializes how influential the company's advertorials were. Oreskes and Supran note that the peer and non-peer-reviewed papers released by Exxon Mobil were probably seen by a readership numbering in the mere "tens to hundreds;" the multinational's advertorials in The New York Times, however, were read by the millions. Between 1972 and 2001 Exxon Mobil took out an advertorial every Thursday, paying an estimated $31,000 per all advertorials. These advertorials were not only designed to raise doubt, the authors say, but additionally "included several instances of explicit factual misrepresentation."
Exxon Mobil is currently the largest oil producer in the United States and in 2016 had a revenue of $218 billion dollars. Prior to this letter's publishing, Exxon Mobil was being investigated by the Securities and Exchange Commission and a coalition of state attorneys general for whether it purposefully lied to the public about the extent and dangers of climate change. This new letter is damning evidence that it did. Whether it affects the company's cash flow, however, is another matter.