How Essential Phone Will Make Virtual Reality the New Selfie
Essential wants to "fundamentally change" taking pictures.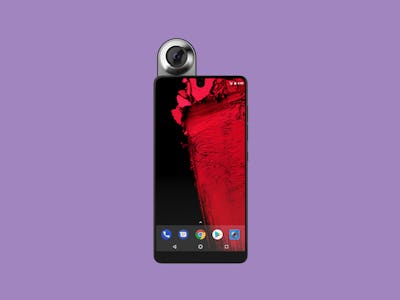 Essential
You're at the Grand Canyon. You're with your friends, celebrating the end of finals season and another school year. It's a big moment! You want to commemorate it. Today, this involves huddling around while somebody wildly flails around with a selfie stick to get everyone in shot. Soon, it could mean just letting everyone stand wherever they are, pushing a button on your phone and instantly creating a 360-degree view of the scene.
That scenario is outlandish, but the tech is there — the only question is whether the consumer interest is there as well. That's part of what Andy Rubin, one of the initial architects of the Android operating system, is betting on with his new Essential Phone. Rubin's stated aim with the smartphone, priced at $699, is to offer a premium experience without some of the aggravations associated with Android.
But while simplicity is the name of the game, the phone's launch in mid-August also hinted at areas where the Essential Phone aims to offer something genuinely new and innovative to consumers. Billed as the "world's smallest 360-degree personal camera," the camera enables users to take panoramic photos in the blink of an eye. When it launches, it should be as simple as point, shoot, and share over social media. But Essential has a big battle on its hands: Many others have tried to reinvent photography before, only to fail spectacularly in the process.
If it's successful, the phone's camera could help democratize virtual reality experiences. Sure, your Grand Canyon photo looks cool on a five-inch screen, but because you've captured a full 360-degree view, you can relive that scene in full immersive virtual reality. Load it up into a headset, pan around, and relive the sense of awe you felt at the time. Turn to your left and right, and see your friends next to you, exactly how it was on that sunny day in June.
It could fundamentally change how users think about photography. People won't need to push and awkwardly angle themselves to get in frame, as they can stand anywhere. You won't need to choose between taking a selfie or a shot of the landscape: you can do both. With the rise of mobile-based virtual reality, users can take immersive photos in the blink of an eye.
"The 360 camera captures the entire world around the user, which fundamentally changes how we take a picture," Xiaoyu Miao, head of imaging at Essential, writes in a blog post. "You don't have to aim your camera, because you capture everything in your world. I think that's a major difference."
The camera has pair of 12-megapixel sensors with fisheye lenses pointing in opposite directions, with an ultra-wide aperture of f/1.8 and a field-of-view at 210 degrees each. Four microphones combined with the images to offer full 360-degree video of 3,840 by 1,920 pixels, at a rate of 30 frames per second..
It's a tiny piece of kit, weighing about 1.23 ounces and measuring less than half an inch thick and 2.6 inches tall. It magnetically snaps to the rear of the device and communicates with the phone itself wirelessly. Normally $199, the camera is currently listed as $50 when purchased with a new phone. Its simplicity and price point solve what Miao sees as two major issues in 360-degree photography:
1) The cameras are bulky and expensive, especially if you want a good one
2) The user experience and workflow for taking a picture and uploading it to your social network is cumbersome
It could totally fall flat. Startups have promised to revolutionize photography before, only to struggle as consumers gravitate toward the simplest system available. Lytro first started shipping a $399 light field camera in 2012, which unlike regular cameras offered the ability to change the focal point after the photo was taken. It was a tough sell, though, and in 2015 the company shifted focus to production-level virtual reality cameras, abandoning the consumer market.
With Essential, though, conditions are slightly more favorable. Light field photography has remained a niche pursuit throughout Lytro's existence, but 360-degree photography has seen a warmer reception. The "panoramic photo" mode standard on many smartphones has brought capturing ultra-wide shots into the mainstream. Facebook offers native 360-degree photo support, allowing mobile users to pan around using their phone's motion sensors. Gadgets like the Google Cardboard and Samsung Gear VR mean users can strap their phone into a device and experience this same new content in full immersive vision.
Of course, the Essential Phone has a regular camera for the times that it's needed. There's a dual 13 megapixel sensor on the back, one that shoots in monochrome, that combines the two images to improve the quality of each shot. There's also an eight-megapixel front camera for selfies.
"Adding the 360 camera as an accessory removes the traditional form factor constraint from the handset, and gives us more flexibility to use the highest quality mobile sensor and lens design for better image quality," Yazhu Ling, lead image quality engineer at Essential, writes in a blog post. "For the users, the new 360 format also provide a refreshingly new way to capture and relive their precious life moments."
Essential has created what could be a straightforward way to create bold new images. At the very least, it will end the danger of losing your phone dangling it over the Grand Canyon.