The iPhone 8's Display Makes the iPhone 7 Look Like an Antique
Apple could be onto a winner.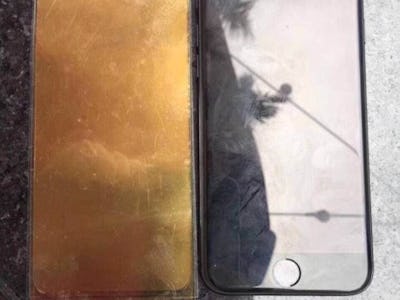 Benjamin Geskin/Twitter
Apple's iPhone 8 is shaping up to be an impressive device. A new report published Tuesday claims the company's upcoming device, expected to launch this fall, will introduce a front-facing "SmartCamera," a 3D facial recognition system, and an infrared sensor to enable the face scanner to work in the dark. Previous rumors have revealed that Apple wants to pack a 5.8-inch OLED display into a phone the same size as the 4.7-inch iPhone 7, and leaked images of the two side-by-side show just how all this tech makes a stark difference.
In a story for Bloomberg on Tuesday, Apple reporter Mark Gurman shared how the scanner will work in practice. The new face scanner will be used to unlock the phone and authenticate payments in a matter of milliseconds. This is in part due to the fact that the iPhone 8 will use a virtual home button, which was where the fingerprint scanner was located on previous devices. Alongside the scanners, a new smart camera will offer improved scene and object detection for those taking selfies with the front-facing camera.
Benjamin Geskin, an Apple product leaker, shared images from Chinese social media network Weibo on Sunday.
These images show the components Apple is expected to use for the upcoming device. The phone is expected to launch alongside an iPhone 7S and 7S Plus, which will retain the design of their predecessors but contain upgraded internals, with the iPhone 8 sitting above the two at a more premium price point.
The display shows four circular cut-outs and one horizontal line. These cut into the space of the screen itself, meaning the display stretches to the far edges of the device and offers more screen real estate than would be otherwise possible.
Of course, all this new technology doesn't come cheap. Internally, the phone is expected to launch with a new A11 processor, wireless charging functionality, improved augmented reality features with a dual lens camera, and a larger battery than before. Rumors suggest the new iPhone could retail for as much as $1,400 — this would make it by far the most expensive iPhone the company has ever produced. Hopefully, when Apple unveils the device as it's expected to this fall, it explains why consumers should cough up more than they're used to to get the latest and greatest.
See below: This Ball Can Wirelessly Charge Your Phone Up to 20 Inches Away