Marvel Is Putting All But 5 of Its Movies Back in Theaters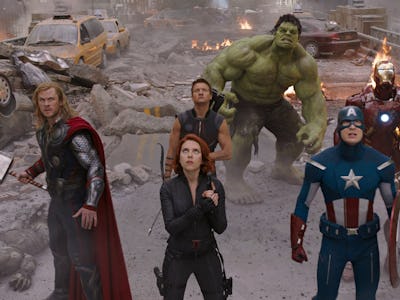 Marvel Entertainment
The Marvel Cinematic Universe began nearly ten years ago when Iron Man hit theaters in 2008. And, next year, Avengers: Infinity War will upend the fabric of the MCU's reality. To commemorate the massive upcoming event, Marvel will turn back the clock for its fans by re-releasing all but five of its movies for select Cinemark theaters for "Marvel Studios Week," which will run from August 25 to 31.
Unlike previous Marvel movie marathons that some theater chains have run, Cinemark's "Marvel Week" will divvy up the films into separate themes that will run on specific dates. So for just five dollars, you can sit down and watch all of Captain America's best moments ("Cap's Best Of," 8/28) or watch all of the films that enter the cosmic realm ("Cosmic," 8/26). "Origins," which will screen every "origin" movie in the MCU, will kick off the event on August 25. "Guardians Day," which is just back-to-back of Guardians of the Galaxy, will close off the event on August 31.
But not every Marvel movie will be screened. Five films have been omitted from the special occasion: The Incredible Hulk (2008), Iron Man 2 (2010), Iron Man 3 (2013), Thor: The Dark World (2013), and Spider-Man: Homecoming (2017). With the exception of Spider-Man: Homecoming which is still in its theatrical run, it's pretty clear Marvel chose to omit the weakest movies in the MCU.
Of course, "Marvel Studios Week" will be exclusive to Cinemark theaters in the continental United States (plus Alaska). Sorry, Hawaii.
For a full listing on every Cinemark theater that will run "Marvel Week," you can click this link or just scroll below to find the one closest to you.
ALABAMA
Huntsville, Cinemark Monaco
ALASKA
Anchorage, Century 16
ARKANSAS
Conway, Cinemark Towne Centre and XD
Little Rock, Cinemark Colonel Glenn 18 and XD
ARIZONA
Tucson, Century 20 El Con
Tucson, Marketplace and XD
CALIFORNIA
Carson, Cinemark Carson and XD
Chico, Cinemark 14
Daly City, Century 20 Daly City and XD
Downey, Cinemark Downey and XD
Elk Grove, CEntury Laguna 16 and XD
Fremont, Century at Pacific Commons and XD
Huntington Beach, Century Huntington Beach and XD
La Quinta, Century La Quinta and XD
Long Beach, Cinemark at the Pike
Los Angeles, Baldwin Hills Crenshaw Plaza 15 and XD
Los Angeles, Cinemark Playa Vist and XD
Los Angeles, Cinemark 18 and XD
Milpitas, Century 20 Great Mall and XD
Napa, Century Napa Valley and XD
Orange, Century Stadium 25 and XD
Oxnard, Century RiverPark 16 and XD
Pleasant Hill, Century Downtown Pleasant Hill 16 and XD
Rancho Mirage, Century @ The River and XD
Redding, Cinemark Redding 14 and XD
Redwood City, Redwood Downtown 20 and XD
Rocklin, Blue Oaks Century Theatres and XD
Roseville, Century Roseville 14 and XD
Sacramento, Century Arden 14 and XD
Sacramento, Century 16 Greenback and XD
San Bruno, Century Tanforan 20 and XD
San Francisco, Century San Francisco Centre 9 and XD
San Jose, Century 20 Oakridge and XD
Union City, Century 25 Union Landing and XD
Victorville, Cinemark 16 Victorville and XD
Walnut Creek, Walnut Creek 14 and XD
COLORADO
Aurora, Century Aurora and XD
Colorado Springs, Cinemark Tinseltown USA and XD
Ft. Collins, Cinemark Fort Collins
Lakewood, Century 16 Bel Mar and XD
CONNECTICUT
North Haven, Cinemark North Haven and XD
DELAWARE
Newark, Cinemark Christiana and XD
FLORIDA
Boynton Beach, Cinemark Boynton Beach 14 and XD
Davie, Cinemark Paradise 24 and XD
Jacksonville, Cinemark Tinseltown and XD
Orlando, Cinemark Festival Bay Mall and XD
GEORGIA
Fayetteville, Cinemark Tinseltown 17 and XD
IOWA
Altoona, Cinemark Altoona and XD
ILLINOIS
Evanston, Century 12 Evanston/CineArts 6 and XD
West Dundee, Cinemark Spring Hill Mall and XD
KANSAS
Merriam, Cinemark 20 and XD
KENTUCKY
Lexington, Cinemark Fayette Mall
Louisville, Cinemark Mall St. Matthews and XD
Louisville, Cinemark Tinseltown USA and XD
LOUISIANA
Baton Rouge, Cinemark Perkins Rowe and XD
Lake Charles, Cinemark Lake Charles and XD
Shreveport, Cinemark Tinseltown and XD
MASSACHUSETTS
Hadley, Cinemark At Hampshire Mall and XD
MONTANA
Helena, Cinemark Helena and XD
MICHIGAN
Taylor, Cinemark Southland Center and XD
NEW JERSEY
Somerdale, Cinemark 16 and XD
NEW MEXICO
Albuquerque, Century Rio 24 Plex and XD
NEVADA
Las Vegas, Century 16 Santa Fe Station
Las Vegas, Century 16 South Point and XD
Las Vegas, Century Orleans 18
OHIO
Cincinnati, Cinemark Oakley Station and XD
Cuyahoga Falls, Cinemark Cuyahoga Falls and XD
Lancaster, Cinemark River Valley Mall and XD
West Maumee, Fallen Timbers 14 and XD
North Canton, Cinemark Tinseltown USA and XD
Toledo, Franklin Park 16
Valley View, Cinemark At Valley View and XD
West Carrollton, Dayton South 16
OKLAHOMA
Oklahoma City, Cinemark Tinseltown and XD
OREGON
Portland, Century Clackamas Town Center and XD
PENNSYLVANIA
Monroeville, Cinemark Monroeville Mall
Moosic, Cinemark 20 and XD
Pittsburgh, Cinemark North Hills and XD
Robinson Township, Cinemark Robinson Township and XD
Tarentum, Cinemark Galleria at Pittsburgh Mills and IMAX
Stroudsburg, Cinemark Stroud Mall and XD
SOUTH DAKOTA
Sioux Falls, Century Stadium 14 and XD
TEXAS
Abilene, Century 12 Abilene
Allen, Cinemark Allen 16 and XD
Amarillo, Cinemark Hollywood 16
Beaumont, Cinemark Tinseltown 15
Brownsville, Cinemark Sunrise Mall
College Station, FIX
Cypress, Cinemark 12 Cypress and XD
El Paso, Cinemark West and XD
El Paso, Cinemark Cielo Vista Mall 14 and XD
El Paso, Cinemark 20 and XD
El Paso, Cinemark East Montana and XD
Fort Worth, Cinemark Alliance Towne Center and XD
Fort Worth, Ridgmar 13 and XD
Frisco, Cinemark Frisco Square and XD
Grapevine, Cinemark Tinseltown 17 and XD
Harlingen, Cinemark 16 and XD
Houston, Cinemark Tinseltown 290 and XD
Hurst, North East Mall 18 and XD
Jacinto City, Cinemark Tinseltown USA
Katy, Cinemark 19 and XD
Lewisville, Cinemark Vista Ridge Mall and XD
Lubbock, Cinemark Movies 16 and XD
Lubbock, Cinemark Tinseltown Lubbock and XD
Mansfield, Cinemark 12 Mansfield and XD
Mission, Cinemark Tinseltown USA and XD
Pearland, Cinemark at Pearland and XD
Pharr, Cinemark Pharr Town Center and XD
Plano, Cinemark West Plano and XD
Plano, Cinemark Legacy and XD
Roanoake, Cinemark Roanoake and XD
Spring, Cinemark Spring Klein and XD
Webster, Cinemark 18 and XD
UTAH
Draper, Cinemark Draper and XD
Farmington, Cinemark Farmington at Station Park and XD
Layton, Tinseltown USA
West Jordan, Cinemark 24 Jordan Landing and XD
West Valley City, Cinemark Valley Fair 9
VIRGINIA
Chesapeake, Cinemark Chesapeake Square and XD
Fairfax, Fairfax Corner 14 and XD
Newport News, Cinemark City Center 12
WASHINGTON
Federal Way, Century Federal Way and XD
Tacoma, Century Point Ruston and XD