The Creator of 'Death Note' Is A Very Mysterious Man
Tsugumi Ohba made one of the most popular manga franchises in the world. No one knows his real name.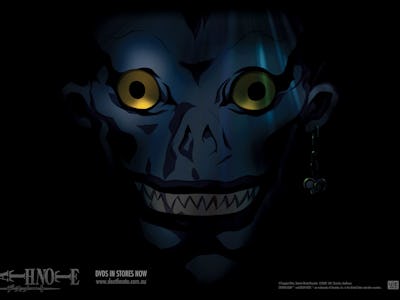 Viz Media
Tsugumi Ohba isn't a known comic book legend, like Stan Lee, Jack Kirby, or Frank Miller, but his impact on pop culture over the past decade has been monumental. If only we knew anything about him.
Tsugumi Ohba, the man behind the juggernaut anime and manga series Death Note, is largely an unknown entity. He goes by a pseudonym, and has only given a few interviews. Friday's release of Netflix's feature film adaptation of Death Note means that audience members who want to learn more about the man behind the story will be looking for a ghost. His gender wasn't even public until the inside cover profile of Ohba's comedy-romance manga Bakuman in 2008, where Ohba was described with male pronouns.
What we know most about are Ohba's personal convictions. In the special 13th volume of Death Note, which served as an encyclopedic guide to his supernatural thriller series, Ohba revealed that there was no main theme for Death Note, but that he did believe in making the most out of life. "Humans will all eventually die and never come back to life, so let's give it our all while we're alive," he wrote. He also said that "no human has the right to pass judgment on another's actions" and that "No one should play God."
In Death Note, a brilliant teenager named Light Yagami picks up a cursed notebook that allows him to kill anybody just by writing their names. It's always been curious that Light, who slowly morphs from anti-hero to antagonist by the end, depended on knowing his victim's real names, as Ohba has long avoided giving his away.
Blending supernatural horror with all the intrigue of a police procedural and a psychological thriller, Death Note is arguably Ohba's most popular work to date. The manga was a hit when it was first published in 2003, and became a phenomenon after the anime adaptation premiered in 2006. Since then, some 30 million copies of all twelve volumes have been sold. The franchise has spawned several live-action films, video games, an avalanche of merchandise, a stage musical, and (somewhat redundant) a live-action TV drama in 2015. The American film adaptation is directed by Adam Wingard (The Guest).
But it's important not to think too hard about Death Note, because Ohba himself did not do so. "I did not put much deep thought into subjects like 'life and death' or 'justice and evil,'" he said. "I wrote the story hoping that it would be good entertainment." Based on Ohba's biggest influences, which he listed in a 2012 interview with manga publisher Viz, Ohba seems invested in just having fun. His biggest role models Fujio Fujiko (Doraemon), Fujio Akatsuka, and Shotaro Ishinomori, creator of Super Sentai, which was adapted into the TV series Mighty Morphin Power Rangers.
Ohba worked on the original manga with illustrator Takeshi Obata, his favorite professional collaborator. In almost all of Ohba's mangas, it's Obata's artwork that helps tell his stories. In that same Viz interview, Ohba spoke highly of his partner, saying:
"My impression of Obata Sensei is that he's a very serious and sensitive person. I cannot express how lucky I was to have him do the art for my series. I cannot pretend to know so much that I can say he improved and in what way, but I do believe his ability to express himself through art continues to get better and better."
Ohba also revealed a little bit about his own insecurities as a creator. He said he emphatically relates to Kazuya Hiramaru, one of his characters from Bakuman, a dramatically different story than the very dark Death Note. "I'm constantly thinking: 'I can't write anymore! I don't want to! I want to run away!!'"
After Death Note, Ohba and Obata teamed up in 2008 for Bakuman, a comedy about a lovestruck manga creator who creates a successful series just so the object of his affection can live out her dream of becoming a voice actress. After Bakuman finished in 2012, Ohba took a small break — he did one one-shot manga with the popular artist Robico, titled Skip! Yamada-kun in 2014 — until he returned in 2015 with Platinum End, another supernatural fantasy about a suicidal teenager rescued by her guardian angel, which is distinctly less dark and cynical than the franchise that made him famous.
Death Note will begin streaming on Netflix on August 25.