Porsche Will Never Build a Fully Autonomous Car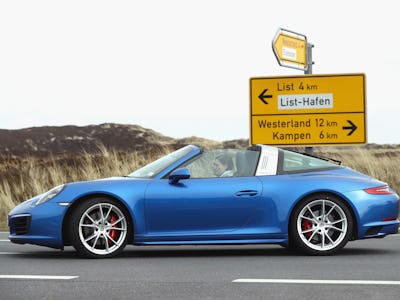 Getty Images / Alexander Hassenstein
Porsche has slammed the brakes on the idea that it will ever develop a fully autonomous car. In an interview published Friday, marketing director of Porsche Asia Pacific Carl Isenbeck said that the company's cars will "always" have the option for a driver to take over the controls.
"Will Porsche be building autonomous car? Maybe, but they won't be fully autonomous," Isenbeck told The Drum. "They can be autonomous for the part where you are stuck in traffic, on the way to the race track. But once you are on the race track, you will still drive the car yourself. Maybe the car can then tell you what an ideal racing line is, versus an instructor."
Porsche's position appears to align with that of other high-end automakers. Tesla has gradually upgraded the software of its semi-autonomous Autopilot system to take on more roles like parallel parking, with a view to eventually enabling full autonomy for its existing cars. The Lucid Air, an upcoming luxury electric vehicle, also promises full autonomous driving through a later software update. These solutions see the steering wheel as playing a role in the future autonomous car, allowing enthusiasts to take their vehicles out of the system and drive with total freedom.
But others have expressed concern that such a halfway approach could do more harm than good. John Havens, executive director of the IEEE's Global Initiative for Ethical Considerations in Artificial Intelligence and Autonomous Systems, criticized the Tesla Autopilot rollout during a Feburary conference, claiming that rolling out a software upgrade to traditional cars encouraged drivers to take their hands off the wheel. The process by which a computer hands back control to a driver, whether it's due to an emergency or because the system was not designed to drive in a particular circumstance, worries researchers.
"The greatest challenge to having highly automated vehicles is not technological," Richard Wallace, a director at the Center for Automotive Research, said in an interview. "It's handling the transition when humans must take back control of the vehicle."
Other automakers are taking a different approach. Ford plans to skip "level three autonomy," defined by the Society of Automotive Engineers as a system that requires the driver to remain alert and take control in emergency situations.
"That puts you in a difficult spot because you have that sense of security that the vehicle's driving itself and [you] may be relaxed, but you have to be ready to take over at any moment," Jackie DiMarco, chief engineer for Ford's autonomous vehicles, told Inverse. "We didn't really see that as the right approach."
Whether Porsche will require drivers to stay alert during autonomous driving is unclear, but the company will need to ensure it perfects the handover process to avoid any safety issues.