Expert Slams Tesla's "Completely Irresponsible" Autopilot Rollout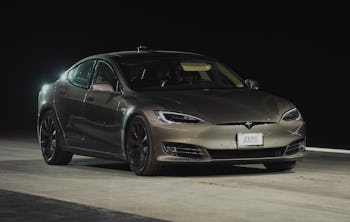 Getty Images / Ethan Miller
Tesla Autopilot seems cool, but according to an expert in artificial intelligence and autonomous systems, its rollout was something of a public relations nightmare. John Havens, executive director of the IEEE's Global Initiative for Ethical Considerations in Artificial Intelligence and Autonomous Systems said Tesla's program of gradually rolling out autonomous systems was "completely irresponsible," during a conference hosted by the University of Cambridge on Monday.
"Tesla was completely irresponsible about doing the firmware upgrade with people," Havens said, during a talk that focused on current depictions of A.I. in the media. "Geeks like me got in the back seat and they filmed while the Tesla was on the highway. 'Check it out! My car is autonomous, dude!'"
Tesla Autopilot started rolling out to Model S customers through a software update in October 2015. The update took advantage of hardware already shipping in the company's cars to provide the ability to drive down a highway and maintain speed without human intervention, but users were expected to take the wheel in an emergency. That didn't stop people from filming themselves in dangerous situations:
Another video, filmed by another person on the road, showed a Tesla driver asleep at the wheel:
Another backseat stunt that went viral was filmed specifically on a private road:
"I wanna be clear. Elon Musk, amazing. Tesla, so much about it is amazing. I actually used to work in PR. That was a capital F. Fail," Havens said. "That's the sort of thing that first of all could hurt the A.I. industry, and second of all is the worst way to think about putting technology in front of people."
He's not the only one in the industry that feels this way. Ford CEO Mark Fields said during a PR event last week that his biggest fear for autonomous technology was that one of his competitors would try to "jump the gun" and release an unfinished product that got someone killed, setting the whole conversation on self-driving cars back years.
"The one fear I have is if anybody in this industry tries to jump the gun and maybe get a beta-test product out there that — God forbid — has an event, an accident or something, that's going to cause people to pause," Fields said.
Musk's counterpoint, of course, is that even in a beta form, Autopilot's software can make drivers safer on the road. There are a handful of dramatic videos online of Teslas using Autopilot to avoid collisions and Musk has pointed to data that suggests even semi-autonomous cars will help save lives.
The two-day conference Havens spoke at was organized by the United Nations Interregional Crime and Justice Research Institute, and focused on risks surrounding artificial intelligence. Havens' team is currently working on a set of guidelines for best practices in A.I. development, urging designers to consider ethical and social issues in their approaches. The first draft of the document launched at the end of last year and the team is currently working on a second draft.
Similarly to the last rollout, Tesla is currently working on a software update that will bring fully-autonomous driving to cars with the Hardware 2 update.