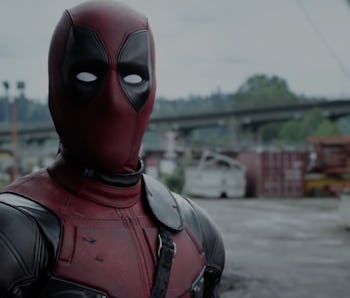 Entertainment
'Deadpool 2' Halts Production Following Fatal Motorcycle Stunt
Stunt driver SJ Harris was killed on Monday.
20th Century Fox
Production on the hotly anticipated sequel Deadpool 2 has been temporarily shut down following a fatal accident on Monday that claimed the life of a stunt driver in Vancouver. Authorities have identified the deceased as 40-year-old SJ Harris.
According to The Hollywood Reporter, which got confirmation of Harris's identity from the Coroner's Service of British Columbia, Harris was killed when she was thrown from her bike into a plate-glass window at ground level. Witnesses says she had performed the stunt without incident four times prior to the deadly accident.
Harris, who is believed to have been standing-in for Domino actress Zazie Beetz, was a New York native. She was an experienced rider, as THR notes a 2015 profile in Black Girls Ride identified her the first African-American female professional road racer. However, Deadline reports that the Deadpool 2 was her first time working as a stunt actress, and that the shot required her to not wear a helmet.
The fatal accident is being investigated by several agencies including AG-AFTRA and WorkSafeBC, and there is no word on when Deadpool 2 production will resume.
Deadpool star and Vancouver native Ryan Reynolds shared a statement about Harris's death on Monday, as did the studio. "We are deeply saddened by the accident that occurred on the set of Deadpool 2 this morning," a statement from Fox reads. "Our hearts and prayers are with the family, friends and colleagues of our crew member during this difficult time."
Reynolds's co-star Josh Brolin, who plays the gruff mutant Cable, released his own statement on Instagram later on Monday. "I never met her, but I know she was a friend, a sister, a daughter and a mentor," Brolin wrote. "And the heart breaks and will slowly mend together as time sews beautiful memories honoring her."
Deadpool 2 is still slated for a 2018 release date.