A Model X is Currently Towing a "Tesla Tiny House" Around Australia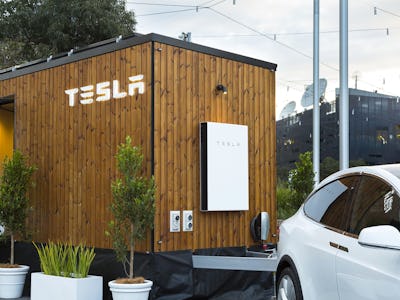 Tesla
Maybe you like the idea of powering your home on renewable energy, but have trouble imagining what that would actually be like. If a Tesla Model X showed up at your door towing a model of such a home, would that clear things up?
That's what's happening right now in Australia, thanks to a project Tesla launched on Monday. The company created a "Tesla Tiny House" meant to "educate the public on how to generate, store and use renewable energy for their home." A Model X — the company's luxury sedan, known for its ultra-quick acceleration — is towing the house on a tour throughout the country.
The house is powered by solar energy and contains a studio in which people can make designs and calculations for their theoretical solar-powered home.
Here's Tesla's description:
"Powered by 100% renewable energy via a 2 kW solar system and Powerwall, Tiny House contains a mobile design studio and configurator which can calculate how your home can generate clean energy from the sun using solar panels, storing it in Powerwall to use throughout the day and night, which can all be monitored and controlled by the Tesla app."
The house weighs two tons; it's 12 feet tall, 18 feet long, and more than 6 feet wide. It's powered by a 2kW PV system with six solar panels, and its energy is stored in one Tesla Powerwall.
The Tesla Tiny House will hit big cities and also smaller locations requested by Australians on Tesla's website (file a request here).
Aussies aren't the only ones who are stoked about this tour. CEO Elon Musk probably helped design the project, but is still struck by how awesome it is. On Monday he commented:
Tesla chose an ideal country to begin this initiative. The solar energy market in Australia is huge: 1.5 million rooftops, or 15 percent of all Australian households, employ solar panels.