Pioneering Solar Microgrid Leaves Brooklyn to Take On Australia
It's an innovative system with worldwide appeal.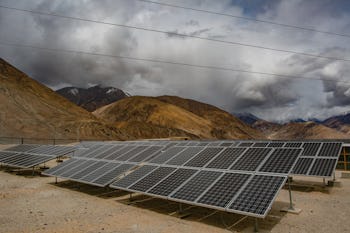 Getty Images / Allison Joyce
The "Brooklyn Microgrid," an experiment in solar power owned by and shared among consumers that uses the blockhain for payments, was only implemented at the beginning of this year, but it has already inspired a parallel project.
A solar microgrid based off of the Brooklyn system is being developed by the software company TransActive Grid in South Australia; a press release says that the project "could be the start of an industry-changing revolution."
What is a solar microgrid, you may ask? A "microgrid" powers itself independently of a large-scale utility grid. It enables decentralized energy systems, and in the case of the "Brooklyn Microgrid," it will eventually be consumer-owned. The energy that Brooklyn users produce with their solar panels is quantified with "credits," and participants can sell their extra credits to other interested parties — say, their next-door neighbor.
"Community members can work both individually and collectively to help meet demand in an efficient way," Audrey Zibelman, former chairwoman of the New York State Public Service Commission, told The New York Times. "It takes a central procurer — in this case, historically, the utility — out of the mix, and really sets the market where they're not buying and selling to the utility but they're identifying each other's need and willingness to buy and sell."
Zibelman left New York in March to lead Australia's energy markets as CEO of the Australian Energy Market Operator, and likely has a role in South Australia's new project.
Similarly to the Brooklyn microgrid, South Australia's grid will be a peer-to-peer system on an LO3 platform operating through blockchain, an open source code that works as online currency and enables users to send money to each other without employing a middle party (like Venmo, or a bank).
The microgrid will be powered by six solar plants, two of which have already been built. South Australia is a great spot for such a project, as it has a plethora of both sunshine and farmland to host the six plants.
The project "involves adding a meter onto a household or business which manages all energy inputs and outputs," reports Decentralized Energy.
A decentralized grid system not only gives consumers more control over their energy but also provides them with more protection in emergencies. During storms, large-scale power grids can experience outages that affect large swaths of territory, but a decentralized grid system allows such disruptions to be localized and contained.
More power in the hands of consumers, cheaper and cleaner energy, and emergency safeguards? It's no wonder this system has worldwide appeal.