Watch Star-Lord Defend Himself in Extended Teen Groot Scenes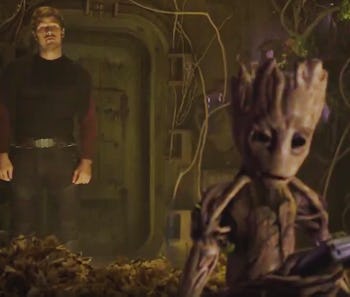 Marvel Entertainment
Who knew a talking Sequoia could have so much angst? In the Digital HD and Blu-ray special features of Marvel's Guardians of the Galaxy Vol. 2, an extended version of the mid-credits scene in which Peter Quill tries to get Teen Groot to clean up his room. Groot, enamored by a video game, ignores Star-Lord, calling him "boring." You don't say that to someone who saved the galaxy twice, son!
On Sunday night, Marvel Studios's official Twitter account shared a condensed version of the deleted scene, as part of a timely tweet during the Teen Choice Awards. In the full clip, which can be seen on the home release of the film, Pratt is shown doing improv with a digital stand-in for Groot, shouting out all the reasons why he's not boring. In the short version on Twitter, Pratt brings up moments like challenging Ronan to a dance-off and actually shooting aliens up close. But Groot doesn't care.
Groot's age will be roughly the same in Avengers: Infinity War. While he's not a towering gentle giant as he was in the original Guardians of the Galaxy, fingers-crossed Teen Groot is capable of throwing down. The Avengers and the Guardians will need all the help they can get when Thanos comes to town.
See the clip below.
Guardians of the Galaxy Vol. 2 is available now on Digital HD.