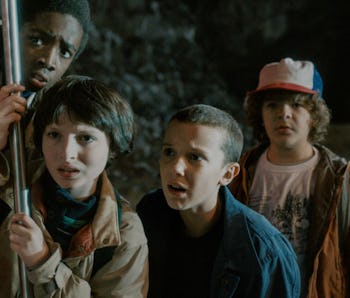 Entertainment
'Stranger Things' Almost Had This Super Boring Title
Netflix
The Hawkins, Indiana, kids were almost running around in a completely different part of the country. Luckily, Stranger Things creators Matt and Ross Duffer changed their minds at the last minute.
Barb actor Shannon Purser "revealed" that Stranger Things was originally sold with a super boring title, telling PopSugar: "Before it was Stranger Things, it was called Montauk. It was supposed to take place in New York. So, kind of at the last minute, they opted for a small-town feel, and the Duffers thought of Stranger Things, and here we are."
This isn't actually new information, though. The Duffer Brothers spoke with The Hollywood Reporter back in August 2016 and the pair were talking about the change even back then. According to Matt Duffer, they wanted the show to take place in Montauk, New York "because we liked the coastal setting, and Montauk was the basis for Amity, and Jaws is probably our favorite movie, so I thought that that would be really cool." But the challenges of shooting on Long Island during the winter were too daunting. So, small-town middle America is was.
Even though the information isn't new, fans of Stranger Things can still rejoice that the series got a last-minute name and location change. Hawkins's sleepy town vibe makes for a much more terrifying place for the Upside Down to wreak havoc on.
Stranger Things Season 2 premieres on Netflix on October 27.