Jennifer Lawrence's Horror Movie 'mother!' Has a Haunting Trailer
Her scream at the end will ruin your life.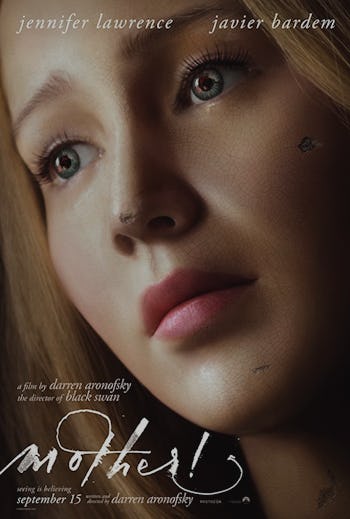 Paramount Pictures
As blood drips from light bulbs and Jennifer Lawrence slowly loses her mind, the trailer for the upcoming horror film mother! puts you closer and closer to the edge of your seat. Writer and director Darren Aronofsky, best known for Requiem for a Dream and Black Swan, has played with ethereal themes and visuals throughout his career; it seems his latest project, mother!, will be no different.
The film stars Lawrence and Javier Bardem as what looks to be a, uh, generation-spanning couple who lives in purposeful isolation. But that isolation is threatened when a strange man (Ed Harris) arrives and Bardem's character invites him to stay. Lawrence's character isn't very into the idea, especially when the man's wife (portrayed by Michelle Pfeiffer) shows up.
Eventually, it seems, the house is inundated by strangers who Bardem explains are "here to see me," adding a creepy smile to boot. Apparently, he's just "trying to bring love into this house," but Lawrence's character grows paranoid and, maybe, starts to find things in the house that she shouldn't.
The film's plot is unclear from the trailer, but the trailer itself will undoubtedly have you clenching your teeth by the time Lawrence's character lets out a horrifying scream.
Aronofsky's mother! premieres in theaters on September 15.