After Crash Bandicoot PS4, Here's Why Spyro Needs a Remake
The purple dragon could return to the PlayStation.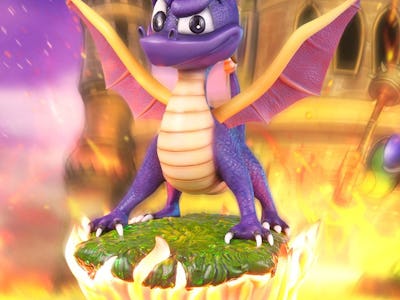 First4Figures
By almost every measure, the Crash Bandicoot remake for the PlayStation 4 has been a success. The N. Sane Trilogy, a collection of the original three '90s-era games redeveloped from the ground-up, has smashed sales records. Reviews have lavished praise on the game for breathing new life into an old classic, and fans are clamoring for other games to receive the same treatment.
"We knew that there was a passionate audience out there for Crash," Eric Hirshberg, CEO of publisher Activision Blizzard, said in the company's second quarter earnings call last week. "But we had no idea — it's hard to tell whether that's a vocal minority or whether that's a real mass audience until you put something out there, and Crash has surpassed all of our expectations by a pretty wide margin."
That's no exaggeration. Despite the fact it launched on June 30, it was the best-selling console game for that entire month. On the PlayStation Store, the game was the most-downloaded for the month of July. In the United Kingdom, the N. Sane Trilogy has spent longer at the number one spot than any other PS4-only game.
"I think you can be confident that there will be more activity like this in the future with more great IP [intellectual property]," Hirshberg said in the call.
In almost every thread about Crash's success, you'll find comments like these:
Like Crash, the original Spyro trilogy was an iconic series of platformers for the original PlayStation. The purple dragon was a mainstay of many kids' shelves growing up. Also like Crash, the property rights are currently owned by Activision:
Here's why a Spyro remake needs to happen:
The gameplay
Spyro was a beautifully straightforward game. X was to jump and glide in the air, circle made Spyro breathe fire, and holding down square made him charge forwards. It was the perfect distillation of the whole being-a-dragon experience.
The three-button combination meant that, within minutes, players were running through a level, laying siege to enemies, and sailing through the air to collect faraway treasure. The charge mechanic meant advanced players could speed through levels, so the game moved as fast as you wanted it to. A remake along similar lines would be ideal for players of all skill levels to take part.
The levels
Where the original Spyro was set in six dragon realms, it was in the two sequels that developer Insomniac started to experiment with telling broader stories. Each level would focus around a single community, sometimes referencing one another to give the sense of a broader universe. Magic portals moved the player from world to world, giving the players a grand sense of adventure.
At the start of Spyro 2, for example, players are tasked with helping a team of anthropomorphic kangaroo rats take back control of their gem mines, before moving on moments later to help some telekinetic monks remove a yeti from their mountaintop temple.
It's fun, it's faintly ridiculous, and it's impressive how rapidly the game tells a story in such a short space of time. Insomniac went on to develop Ratchet & Clank, which took these world-exploring aspects to a whole new level while retaining the same sense of humor. The 2016 remake of Ratchet & Clank brought these worlds to life to look something like a Pixar film.
In a similar vein, Spyro's worlds could shine on the PS4.
The music
Stewart Copeland, most famous for his role as drummer for The Police, composed music for the original three games and Spyro: Enter the Dragonfly on PlayStation 2. He has called it some of his finest work.
"For Spyro it was kind of like doing a quadruple LP of backing tracks. A lot of material was required, and under that intense schedule the quality of work improved drastically," Copeland told GamesTM in an interview. "When I get commissioned by the Pittsburgh Symphony to write a concerto for their orchestra, I reach back to Spyro for some of those tunes I wrote in the heat of the moment. They're some of my most affecting music, my best insights and my best ideas."
Indeed, Copeland re-used many ideas in his future work. The theme tune to Nickelodeon's The Amanda Show, which Copeland also composed, bears a striking similarity to the "Wizard's Peak" theme in the first Spyro. In 2006, Copeland performed a variation of the "Blowhard" theme live at Modern Drummer Festival.
The addictiveness
The Spyro games encouraged 100 percent completion. Beyond treasure collection, there was an array of mini-games and other activities to keep pushing for extra play time. Time trial missions pit the best players against each other as they aim to compete for total domination. It's easy to see how a remade version could take those same ideas and update them for a whole new audience.
And hey, if Crash gets a remake, why not Spyro?