Ubisoft CEO: Key Xbox One X Feature Means 'Overall Better Games'
Yves Guillemot is impressed.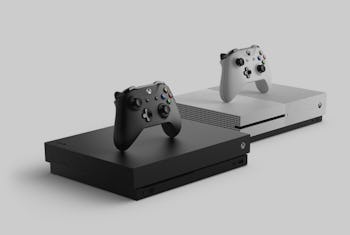 Microsoft
The Xbox One X is wowing developers. An interview published Saturday with Ubisoft CEO Yves Guillemot reveals that the company is one of the many fans of the upcoming $499 console, for one reason in particular: it's powerful.
The new machine, set to launch this November, packs a serious punch. Where the Xbox One had 1.31 teraflops of graphics power, the One X boosts this to a staggering six teraflops. That means the new console is capable of powering games at full 4K resolution, while providing developers with more freedom to create games that require large amounts of hardware power.
Speaking to Gamespot, Guillemot said about the Xbox One X:
We did a deal with Microsoft on Assassin's Creed: Origins, which is taking really good advantage of the power of the machine. We like very much what they are doing because instead of having a Kinect or something this time the industry went after more power for the machine, so more immersion, better A.I., and overall better games. We like that because it means the industry will grow because the better the experiences, the more people want to have it. We think it has a good potential. If Microsoft is really behind it, it can do well.
The comments follow a report last month that UK-based game developer VooFoo Studios was able to get Mantis Burn Racing running on a One X developer kit with extra special effects, describing it as "substantially more powerful."
The One X is set to compete with the PlayStation 4 Pro for 4K gaming dominance. The PS4 Pro is priced at just $399, but also has graphics capabilities of just over four teraflops. If Microsoft can distinguish its console from Sony through a more impressive range of graphical effects, it may be able to persuade players to switch over.
However, some are concerned the console may have priced itself out of the market. Wedbush Securities analyst Michael Pachter said in an interview last month that the One X is "too expensive," particularly as not many consumers own 4K TVs. Whether the availability of 4K-capable consoles increases the adoption of the high-resolution screens remains to be seen.