People Are Upset That Dunkin' Donuts Might Drop the "Donuts"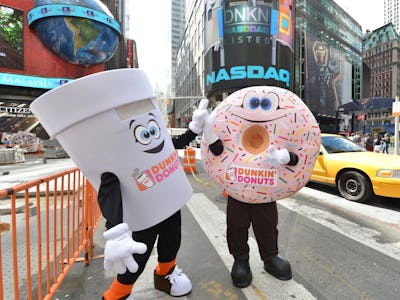 Getty Images / Slaven Vlasic
Dunkin' Donuts sent shockwaves through the mass market donut world on Wednesday, when it announced that it will be opening a new location in Pasadena, California that would be branded as merely "Dunkin'."
According to a statement released to Nation's Restaurant News, this new abbreviation is "part of our efforts to reinforce that Dunkin' Donuts is a beverage-led brand and coffee leader, we will be testing signage in a few locations that refer to the brand simply as "Dunkin'."
The company also insisted that this name change was not meant to signal a rebrand. "We have been referring to ourselves simply as Dunkin' in our advertising for more than a decade, ever since we introduced our 'America Runs on Dunkin' campaign," said a company representative.
But this name change, coupled with recent efforts by the donut shop to streamline menus, made many morning dessert fans uneasy. If Dunkin' wants beverages in the lead, will that mean that donuts should be forced to play second fiddle?
Twitter users were, as always, quick to express their discomfort and, sometimes, outrage.
Other people pointed out that Dunkin' Donuts sometimes goes by other names already, so an official change probably wouldn't be a huge deal.
One can only hope, for Dunkin' corporate and for Dunkin' fans, that a donut by any other name will taste just as sweet.