'Guardians of the Galaxy' 3 Title Revealed by James Gunn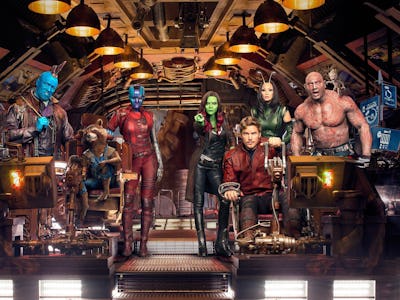 'Guardians of the Galaxy Vol. 2'
The Guardians of the Galaxy will join in the battle against Thanos in Avengers: Infinity War, but James Gunn, director of the Guardians of the Galaxy movies, is already thinking about the future of his rag-tag team of interspecies space heroes. The title for the third film is expected to be … exactly what you think.
In an interview with Collider published Friday tied to the Vol. 2 DVD and Blu-ray release, Gunn talked plans for the upcoming third adventure for the Guardians, which will close out "this iteration of the Guardians of the Galaxy." And, yes, it will "probably" be called Guardians of the Galaxy Vol. 3.
The previous two Guardians film titles were loosely based on mixtapes made for Peter Quill, aka Star Lord, by his mother. They include songs like "Ain't No Mountain High Enough" and "Come a Little Bit Closer." Going into the third film in the trilogy, it's hard to imagine yet another lost mixtape emerging, but it's too late now to break convention, isn't it?
Gunn treated each of the previous two films as the first two acts in a three-act story, with the third hopefully offering closure on any dangling plot threads and lingering questions from the first two movies:
"The truth is, the first movie is the first act, the second movie is the second act, and the third movie is the third act so I'm tying a lot of stuff together in the third film. We get a lot of answers on a lot of different things, so doing that in an elegant way takes a little bit of grace and elegance. It's more challenging in that respect writing the third movie than the second movie."
The plan, for now, is to call this third film Guardians of the Galaxy Vol. 3, but Gunn notes that things are still subject to change, adding that filming wouldn't begin for "a little more than year." Besides, the Guardians have a lot to do in the next two Avengers movies first.
The Guardians of the Galaxy will meet up with Thor before joining the rest of the Avengers in Infinity War, due out May 4, 2018. There's no projected release date for Guardians of the Galaxy Vol. 3.