Scientists Wreak Bloody Havoc in Neill Blomkamp's New Short Film
War doesn't only effect soldiers in the 'District 9' director's new short, "Kapture: Fluke."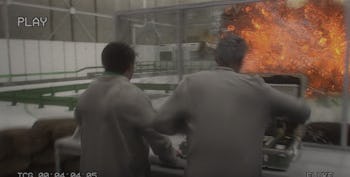 Oats Studios
Neill Blomkamp sets a couple of power-hungry, war-driven scientists loose in his latest short film for Oats Studios. Unlike the other short films in Volume 1, "Kapture: Fluke" is entirely animated and focuses on the people making the types of horrors usually being used in the District 9 director's other videos.
The 5-minute video opens with two scientists explaining their latest creation in a stark white test facility, bragging about how "sleek" and manageable this mysterious creation of theirs is. With a shotgun, users will apparently be able to shoot a receptor into the enemy and take control of their body.
These scientists, high on their own achievement and frankly annoying as shit, suddenly turn suspicious in the viewer's mind when two soldiers bring a green-clad man into the facility to use as a test subject.
"So, we have a deal with the Department of Defense and a loan-out program with the prisons," one of the scientists tells the camera. He reveals in a whisper that the prisoner, Mike, probably will not survive the test, but that, if he does, he gets a reduced sentence.
One of the soldiers shoots the receptor into the man's leg, rendering the scientists in control of Mike's entire body via "full cerebral capture." They can even see what he sees. They joke around with him for a bit, showing a chilling lack of empathy, before sending him into the makeshift shack in the facility.
They detonate the receptor, killing Mike in a fiery explosion that splatters blood across their protective shield. The two scientists dissolve into fits of laughter as the soldiers look on, unaffected by the results of the test.
Volume 1's "Kapture: Fluke" is now available to stream on Youtube and Steam.