Flesh Monster Hunts Dakota Fanning in Gory New Oats Studios Film
The monster in 'Zygote' is a little handsy.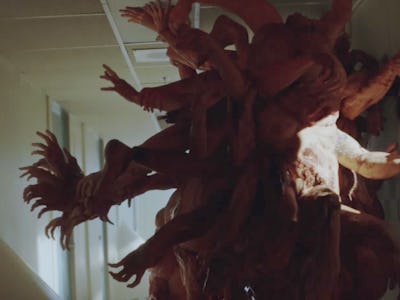 Oats Studios
Following a brief but deeply unsettling teaser earlier this month, Oats Studios' latest horror short is here to disgust and terrorize viewers. Zygote, the newest entry in Neill Blomkamp's experimental horror venture, stars actress Dakota Fanning as a futuristic, dystopian mine worker fleeing a horrible amalgamation of meat, limbs, and eyeballs.
The short, which, like all Oats Studios films, is intentionally not a complete story (if there's demand, Blomkamp and co. hope to continue them), is stressful and gory. We're introduced to the Coraline star as a low-ranking synthetic who is trying to shepherd her severely injured superior as they escape … something. Fanning's companion explains that the miners uncovered a light of sorts that drove them mad, causing one member to cut his companions up and combine them, somehow turning into a superbeing that makes the end of Akira look tame.
The special effects are pretty good, though there are some shots where the monster looks especially like a CGI construct. Its design, though, is a gruesome home run.
Oats Studios has already released Rakka, which starred Sigourney Weaver as a resistance leader in a post-alien invasion wasteland, and Firebase, a supernatural bloodbath set during the Vietnam War.