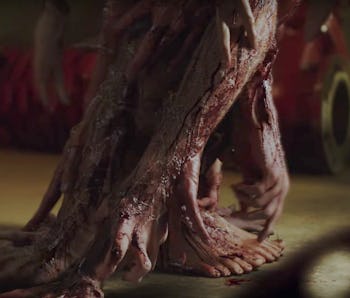 Entertainment
'District 9' Director's Next Horror Short Stars a Flesh Monster
That's entirely too many toes.
Oats Studios
Oats Studios District 9 director Neill Blomkamp's experimental horror venture just released a teaser for its next short film, and it's deeply, deeply unsettling. The spot is just a few seconds long, but it's a fleshy, gore-filled bit of body horror.
The short, Zygote, is set for release on July 12, but we don't know too much about it at the moment. The title seemingly refers to a fertilized egg cell, which occurs when an ovum and a sperm come together. Well, based on the glimpse we see in the trailer, the creature in the new short is a much more monstrous fusion. We see a foot — or more accurately, feet — step into the frame. The entire limb seems like it's made of writhing hands and feet mashed together, all dripping with blood.
"It's coming," the description on the YouTube video warns. There aren't any further clues about what, exactly, "it" is, but it doesn't seem good.
Oats Studios has already released a couple of similarly bonkers shorts. There was Rakka, which starred Sigourney Weaver as a resistance leader in a post-alien invasion wasteland, and Firebase, a gore-filled bloodbath set during the Vietnam War.
Zygote comes out on July 12. You'll be able to catch it on YouTube, Steam, and Facebook.