Fate Of Trump's Border Wall More Uncertain Than Ever
Because maybe, you're gonna be the one that saves me/And after all, you're my border wall...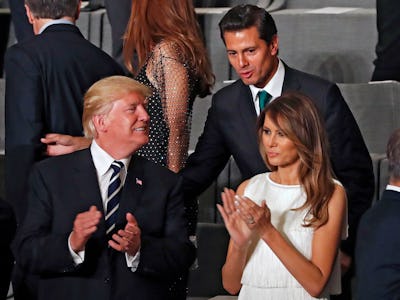 Getty Images / Pool
At a press conference in July, Donald Trump asserted that one of the keys to the border wall he promises to build between the United States and Mexico was transparency.
"You have to be able to see through it," the president said. "In other words, if you can't see through that wall- so it could be a steel wall with openings, but you have to have openings because you have to see what's on the other side of the wall."
As it turns out, the wall might not only be transparent; it could also be so permeable that people will be able to pass through it completely, because it may not exist at all.
Between the newly released transcript of a phone call between Donald Trump and Mexican president Enrique Peña Nieto a few days after Trump's inauguration, and a $15 billion border defense bill introduced Thursday that does not include funding for a wall spanning the entirety of the U.S./Mexico border, it seems less possible than ever that the border wall Trump promised will become a reality.
The border bill
In late July, the House of Representatives passed a $789 billion defense spending package that included funding for around 70 miles of barriers on the U.S./Mexico border, which Republican leaders cited as a precursor to the full border wall. Fear that funds would not be allocated for the border wall, but instead go towards gender reassignment surgery for transgender military members was a motivating factor in Trump's transgender military ban announcement, according to POLITICO. The defense spending package was announced the day after the transgender military ban.
But the latest border bill, dubbed Building America's Trust Act, looks to fund multifaceted solutions to border control issues, instead of just building a really big wall.
The bill's co-sponsors, four Republican senators including Majority Whip John Cornyn, worked "closely" with the Department of Homeland Security when writing the bill. It has already been endorsed by several law enforcement agencies, including the National Border Patrol Council, a group that endorsed Donald Trump during his presidential run.
The phone call
News of the bill came on the heels of the full release of the transcript of a phone conversation between Trump and Peña Nieto during which Trump asked Peña Nieto repeatedly not to mention to the media that Mexico does not intend to pay for the border wall, a promise that Trump made repeatedly throughout the course of his presidential campaign.
"They are going to say, "who is going to pay for the wall, Mr. President?" to both of us, and we should both say, "we will work it out." It will work out in the formula somehow. As opposed to you saying, "we will not pay" and me saying, "we will not pay." Because you and I are both at a point now where we are both saying we are not to pay for the wall," Trump said to Peña Nieto. "From a political standpoint, that is what we will say. We cannot say that anymore because if you are going to say that Mexico is not going to pay for the wall, then I do not want to meet with you guys anymore because I cannot live with that."
Trump calls the border wall "the least important thing we are talking about" from a financial standpoint, but stresses the wall's political importance for him. "I know how to build very inexpensively, so it will be much lower than these numbers I am being presented with," Trump said. "And it will be a better wall and it will look nice."
The transcript also shows Trump's attempts to flatter Peña Neito. "It is you and I against the world, Enrique, do not forget," he said at one point. "I want you to be so popular that your people will call for a constitutional amendment in Mexico so that you can run again for another six years," he said at another.
The gang's all here
Trump isn't the only person to have thrown his support behind the border wall. Fitness aficionado Paul Ryan recently caught a wave of internet mockery for his promotional video for the wall, titled "Let's Get It Done." In the video, Paul Ryan takes a ride in a helicopter and then rides a horse with some border patrol agents to a sick EDM soundtrack, acting out some 14-year-old Texan boy's Perfect Day.
The video was quickly spoofed, with Twitter users adding their own soundtrack to these truly wild optics.
Stephen Miller also weighed in on immigration in a recent press conference, where he responded to questions about the new bill, the RAISE Act, that would reduce the number of immigrants coming to America overall, and give priority to those who can already speak English or who have marketable skills.
When one reporter, CNN's Jim Acosta, evoked the poem engraved on the Statue of Liberty in order to criticize the bill, Miller responded by acusing Acosta of revealing his "cosmopolitan bias" for saying that a bill favoring English speakers would give preference to British or Australian immigrants.
Twitter users lashed back against Miller and mocked both the contents of the bill and Miller's personal demeanor.
Bars not borders
Though plans from the border wall don't seem to be materializing, another entity announced that it's got a border construction project on its horizon. Scottish brewery BrewDog will build a craft beer bar, called "The Bar on the Edge," that "straddles" the U.S./Mexico border in order to make a statement about "collaboration and inclusivity."
Brave activist and BrewDog founder James Watt detailed his intentions in a press release. "We will request official permission from the local authorities to put it there and adhere to any red tape stuff," Watt said. "But I guess it would make it more difficult to build a wall if there's a BrewDog bar in the way. We're planning on putting the bar there anyway until someone tells us to move it."