Man Caught Allegedly Masturbating to 'The Emoji Movie'
New Jersey police say they are still in search of the masturbator.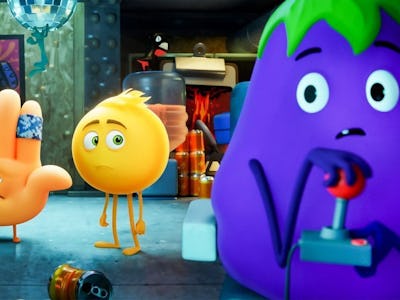 The Hollywood Reporter
In a New Jersey movie theater off Route 9 this week, a mother of two turned around during a screening of The Emoji Movie and noticed that a lone man in the dark had both hands down his pants. Rather than confront the furiously masturbating patron, she told the theater's manager about his activities and waited until she got home to call the police.
Though Xscape Movie Theater asked the man to zip up his pants and leave, they did not apprehend him. Thus, the local police are still in pursuit of the man, pictured here, who could very well be working himself up to emojizzing in other screenings, since he didn't get to see the film end.
It's not clear which scene in particular excited the man enough to masturbate (allegedly) using both hands, but if this reporter had to venture a guess, Smiler (Maya Rudolph) has a glamorous, dominant personality and seems more than a little into inflicting painful punishments on the other emojis. Perhaps Smiler's grimacing, digital face was this man's downfall.
Speaking to New Jersey News 12, the Howell police describe the man as "a white, heavyset man in his 20s or 30s. He was wearing a white dress shirt, black pants and a yarmulke on his head. He also had facial hair."
Despite being absolutely destroyed by film critics in early screenings, The Emoji Movie, directed by Tony Leondis and starring T.J. Miller, has made $25.7 million at the box office at the time of this writing. It's not clear how many people have attempted to masturbate like this man in their theaters, just as it's not clear why he didn't just wait until the film was released on VOD like the rest of us.
Perhaps he's into public masturbation, in which case he'd benefit from a copy of Part-Time Perverts: Sex, Pop Culture, and Kink Management, an informative book by Lauren Rosewarne. In her writing on public sex kinks, Rosewarne argues that societal discomfort with arousal, especially in response to "non-vanilla sources of stimulation" (like animated movies about emojis) leads to damaging stigma and many of us (she cites politicians) leading double lives, as we seek to satisfy our urges while maintaining the public persona of a human who doesn't feel sexual urges at all.
Then again, even if New Jersey's alleged masturbator is into public arousal and is attempting to hide his kink, involving children in any way, even as unwilling spectators, is likely to get him arrested, and rightfully so.
Keep it in your pants, Emoji fetishists.