Why the NAACP Issued Its First Ever Travel Advisory for Racism
Missouri has a very long way to go.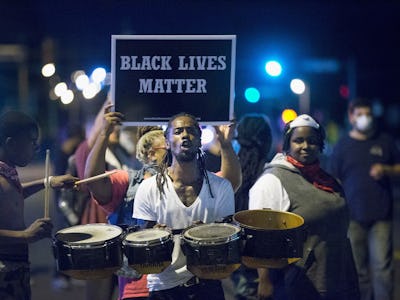 Getty Images / Scott Olson
On November 10, 2015, the University of Missouri campus devolved into chaos when students began passing around a message left on the anonymous, now-defunct social media app Yik Yak. The text read, "I'm going to stand my ground tomorrow and shoot every black person I see."
Less than 10 minutes after I read that message, some asshole set off a firework outside my apartment. My neighbors called the police.
Soon, rumors of Ku Klux Klan activity (still a very real threat in Missouri) and other hate groups on campus ravaged social media, sending the University's students, myself included, into a panic about whether or not anyone would go to campus tomorrow for class.
This Tuesday, less than two years later, the National Association for the Advancement of Colored People (NAACP) reported that it would uphold a travel advisory from its Missouri chapter warning residents and travelers about ongoing racism in the state.
It's the first time in the NAACP's 108-year history that it's officially warned travelers to avoid a certain state because of instances of systemic racism.
The Missouri travel advisory was originally issued by the Missouri chapter of the NAACP on June 7 after the state approved Senate Bill 43. The bill — passed by the state Senate in March with a vote of 23-9, the state House in May with a vote of 98-30, and signed by Missouri Governor Eric Greitens on June 30 — will make it harder to sue a business for racial discrimination after going into effect on August 28.
The travel advisory, which warns both Missouri residents and tourists of "looming danger," cites Senator Gary Romine's "Jim Crow Bill" as the final impetus for the warning. But it's certainly not the only factor.
"Race, gender, and color-based crimes have a long history in Missouri," the advisory says. "Missouri, home of Lloyd Gaines, Dredd Scott and the dubious distinction of the Missouri Compromise and one of the last states to lose its slaveholding past, may not be safe."
If you consider these points "ancient history" and are ready to blow them off, since even the well-known Dred Scott v. Sandford case was decided 160 years ago in 1857, you should reconsider your stance.
Accusations of Missouri's systemic racism were brought to the forefront of the zeitgeist in 2014, when police officer Darren Wilson shot Michael Brown on August 9. In response to the murder, a series of protests unfolded in a cultural movement now known as the "Ferguson unrest". The local police force was provided with military-grade equipment and the FAA implemented a no-fly zone over Ferguson at the request of the St. Louis County Police Department. Things got worse when a grand jury did not indict Wilson for killing Brown. In the summer of 2014, it seemed the whole world was watching Ferguson, Mo.
And, since Ferguson, things have only gotten more complicated.
The NAACP's advisory also lists the death of Tory Sanders, a 28-year-old black man from Tennessee who died in a jail cell in Charleston, Missouri, after being held without charges. Also listed are comments from legislature Representative Rick Bratton, who argued that "homosexuals are not human beings," according to his faith, and a report that "black high school students in St. Louis have been attacked with hot glue while denigrated racially". The NAACP also cited an incident where "two internationally born men" were "gunned down outside in Kansas City after their killer thought them to be Muslim," and a report from the Missouri Attorney General that states "African Americans in Missouri are subjected to excessive traffic" and are "75% more likely to be stopped and searched based on skin color than Caucasians."
And on top of all that are the excessive problems plaguing the University of Missouri school system, all of which came to the forefront in 2015 with protests led by Concerned Student 1950, a student activist group named after the first year a black student attended Mizzou. Concerned Student was founded after Missouri Student Association President Payton Head, a leading member of the student community at Mizzou, was called a racial slur and harassed by a group of white men in a pickup truck in September 2015.
A few months later, Jonathan Butler, a prominent member of Concerned Student 1950, went on a seven-day hunger strike, vowing to consume no food until University of Missouri System President Tim Wolfe resigned.
Wolfe resigned on Monday, November 9, and students gathered to celebrate that afternoon at Concerned Students' campsite on the aptly-named Traditions Plaza. The University vowed to work toward a brighter future, together.
The next night, Hunter M. Park posted his threat to Yik Yak. He was arrested a little over 24 hours later by campus police, but the damage had already been done despite Hunter, thankfully, not following through with the threat.
Back in 2015, when I was attending the University of Missouri during that shooting threat, our professors canceled classes in response. All of us, especially students of color, were exempt from attending. Those tense 24 hours were the culmination of a semester defined by all-consuming student protests.
Before all that, I'd always known my home state had problems with racism. But listening to my friends recount ever-increasing instances of harassment, telling me the racial slurs hurled at them as they did something as simple as leave the library after a late night spent studying, was damning.
It's absolutely not a surprise that the NAACP is backing this advisory. Missouri has a long way to go.