Trump's Fighting "Fake News" With "Real News" Broadcasts by Lara Trump
His daughter-in-law hosts a segment sharing the week's "real news."
by Monica Hunter-Hart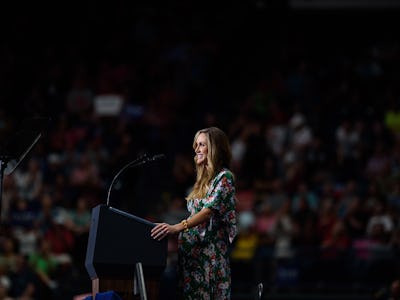 Getty Images / Justin Merriman
Dissatisfied with merely railing against the "fake news media," President Donald Trump is now offering his own, "real" news media. Lara Trump — who became his daughter-in-law upon marrying Eric Trump in 2014 — hosted a broadcast released this Sunday on Facebook in which she described "all the accomplishments the president had this week," which we haven't heard about "because there's so much fake news out there."
In front of a deep blue background covered with symbols from the election campaign, Lara Trump delves into the "real news" of the week.
Unsurprisingly, stories that don't make it into the segment include President Trump's verbal ban of transgender members of the military, the failure of the Republican-sponsored Obamacare repeal, or Anthony Scaramucci's tantrum on the phone with Ryan Lizza.
Instead, Lara Trump focuses on job creation and a falling unemployment rate. She mentions President Trump's speech about gang violence, but leaves out the part in which he told police officers, "please don't be too nice" to suspects. She mentions that he donated part of his salary to the Department of Education, but leaves out the important context that he has also proposed slashing the department's budget by $9.2 billion.
She sums up the segment with a soundbite of succinct propaganda: "I'm Lara Trump, and that is the real news."
It should be said that when President Trump and Lara Trump speak of "fake news," they're talking about what they perceive to be media bias. In actuality, fake news is misinformation created and spread deliberately to deceive audiences.
It's unclear whether the two-and-a-half minute video is a standalone segment or the first of a new regular series, but since it's gone viral — having raked up 2.1 million views as of Wednesday evening — it's not hard to imagine that President Trump wants the broadcasts to continue. Just like his Twitter account, they enable him to communicate "directly" with the American people. And unlike Twitter, it involves sentences that last more than 140 characters and even a thin, blonde anchorwoman, as though it's his very own, personal Fox News.