Elon Musk Says He Might Be Bipolar, Mentions "Unrelenting Stress"
He described "great highs, terrible lows and unrelenting stress."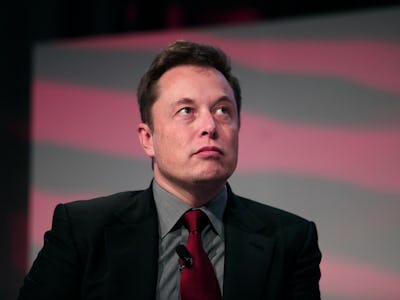 Getty Images / Bill Pugliano
It's no secret that Elon Musk has a stressful job. His companies Tesla, SpaceX, and The Boring Company innovate at incredibly fast rates and have approached bankruptcy several times. Musk often works 100-hour weeks and sleeps at his factories. He discussed his emotional life in an especially candid moment this Sunday on Twitter: He disclosed that he may be bipolar, and spoke of the "great highs" and "terrible lows" of his job.
It began when a fan tweeted at Musk: "Following @elonmusk on Instagram shows an amazing life," he wrote. (That is true.) "I wonder if the ups and down he had make for a more enjoyable life?"
"The reality is great highs, terrible lows and unrelenting stress," Musk responded. "Don't think people want to hear about the last two."
Another user replied and asked, "@elonmusk are you bipolar?" Musk responded with a simple, "Yeah."
But seven minutes later, he qualified a bit. "Maybe not medically tho. Dunno. Bad feelings correlate to bad events, so maybe real problem is getting carried away in what I sign up for."
He then wrote that strain comes with the territory: "If you buy a ticket to hell, it isn't fair to blame hell …" When asked whether he had any advice for dealing with the ups and downs that accompany business pressure, he said, "I'm sure there are better answers than what I do, which is just take the pain and make sure you really care about what you're doing."
If Musk were bipolar — which is far from certain, since he apparently has not been diagnosed — that would mean that he suffers from periods of mania (for which symptoms could include increased energy, impulsivity, needing less sleep, and making grand plans) and depression (for which symptoms could include sadness, listlessness, lack of energy, indecisiveness, and feelings of worthlessness).
Musk is a remarkable human being; his seemingly-relentless drive and creativity are rather baffling, and people have often tried to better understand him by discussing his mental state and the roots of his internal motivation. Some have hypothesized that being bullied as a child made Musk experience post-traumatic growth; others have wondered whether he might be on the autism spectrum or even be a psychopath.
Speculating about a stranger's mental health is tricky and also somewhat invasive. Musk's tweets on Sunday, though, showed him to be admirably willing to discuss his emotional life in public, at least in the moment.
In the past, he has discussed the pressures of the job more generally.
"You have to put in incredible amounts of efforts and huge amounts of stress, and it's much more painful than most people realize," he said in 2013. "And most companies die. […] And even though a company's death is not real, it's not like someone is physically dying, your brain doesn't quite understand that on the limbic system level. So it's really sort of painfully stressful."
Musk isn't the only victim of his business ambitions. The work culture at his various companies is said to be extremely intense; in 2016, SpaceX and Tesla topped PayScale's list of the most meaningful jobs in high tech, but were also listed as the most stressful.
In May, The Guardian published a shocking report on the conditions at the Tesla factory, saying that more than 100 ambulances have been called since 2014 "for workers experiencing fainting spells, dizziness, seizures, abnormal breathing and chest pains" and that "hundreds more were called for injuries and other medical issues."
"The challenge is, he is a machine and the rest of us aren't," Dolly Singh, SpaceX's former Head of Talent Acquisition once said about Musk. "So if you work for Elon, you have to accept the discomfort. But in that discomfort is the kind of growth you can't get anywhere else."