John Oliver Cleverly Helps Doctors Without Borders in Alex Jones Story
Oliver highlighted the health-focused products sold by Jones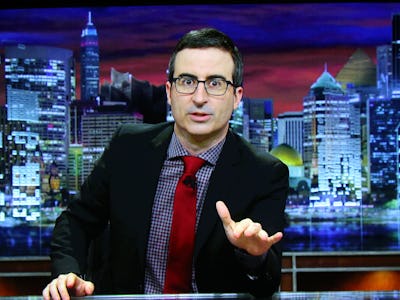 Getty Images / Frederick M. Brown
On Sunday night's episode of Last Week Tonight, the investigation-based comedy-news program hosted by former Daily Show correspondent John Oliver, people who only know Alex Jones from Super Deluxe spoofs learned two truths about the conspiracy-peddling maniac who hosts a four-hour talk show most week days.
1. If you only play small clips of Jones in isolation, he looks like a loon. It's true.
2. "But if you play them in context, he looks like a skilled salesman, spending hours a day, frightening you about problems like refugees selling disease, and then selling you an answer," Oliver told viewers on Sunday night.
If you only know Jones from wild AF clips on the internet, this, along with great reporting by Der Spiegel and Buzzfeed (both linked below), are essential for understanding how he appears to use fear to sell products to some 6 million people a week.
And along the way during his 22-minute segment, Oliver's weekly stunt created a way to make a massive donation to Doctors Without Borders.
Oliver highlighted the health-focused products sold by Jones, whose products make those endorsed by the much-maligned Goop seem tame in comparison.
"We bought a whole bunch," Oliver said, highlighting Super Male Vitality and Super Female Vitality, serums sold in amber-glass dropper bottles, designed to stimulate sex drive. Also available: Wake Up America Patriot Blend Coffee, something called Lung Cleanse, a bottle of 36 capsules branded as Brain Force Plus, and creepily, Child Ease, a "herbal blend" which InfoWars bills as being "designed to soothe the mind and bodies of children."
Oliver reported that in a week of recent broadcasts, Jones spent nearly 25 percent of his airtime "talking about or playing ads for his products" or pointing viewers to the InfoWars store, which sells survival gear, organic shampoo, body wash, deodorant, and "tactical bath wipes"
"Fund us, give me the energy and I will attack the enemy," Jones calls out to listeners," in a clip shown on Last Week Tonight. He repeatedly says InfoWars is under threat of going under, but that's just not true, former employees told BuzzFeed News in a May story. Oliver also points out that Jones can be seen wearing several different Rolex watches from behind the InfoWars desk.
"The fact that he seems to sell so many solutions should really recontexualize how you think about what he is claiming are problems," Oliver told viewers.
Since 2013, Jones has "increasingly focused on promoting his own products, which he sells on his site under is 'InfoWars Life' brand," comprised of nutrition-focused vitamins and supplements.
"Two-thirds of Jones's funding comes from the marketing of his own products," reported Der Spiegel in a February 2017 interview with Jones, a note that Oliver made to viewers on Sunday night.
Of course, Oliver breaks the fourth wall, as he usually does each week, by pulling a real-world stunt:
This time he lampooned the aforementioned "tactical wipes" being hawked on Jones' website, selling his own "tactical assault wipes" for the very real price of $1 million — with all proceeds going to Doctors Without Borders:
Watch the full segment below: