#NoConfederate: Activists Protest HBO During 'Game of Thrones'
The alternate-history slave drama got major pushback Sunday night.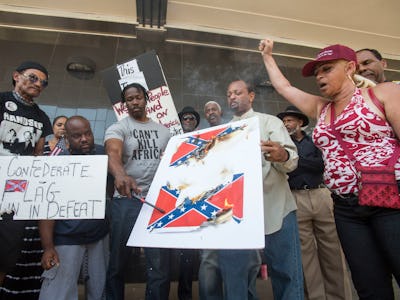 Getty Images / Ringo H.W. Chiu
While fans tweeted on Sunday night about a highly anticipated episode of HBO's historical fantasy Game of Thrones, activists took to Twitter to give the network a dose of reality and a few real-world history lessons.
HBO announced on July 19th that it had ordered a drama from GoT showrunners David Benioff and D.B. Weiss that would depict an alternative history in which the South won the Civil War and had successfully seceded from the United States. The announcement immediately created an intense backlash, with skepticism and outrage coming from academics, TV critics, black activists, and fans.
On Sunday night, activists and critics took to Twitter to protest HBO and educate unaware and skeptical users about the dangers presented by a show that rewrote history to keep black people in bondage — especially during a politically and socially fraught time in the United States, which just saw an election defined in part by racial tension.
The protest was organized by April Reign, who started the hashtag #OscarsSoWhite in 2016 in response to the historic absence of black nominees for that year's Academy Awards.
Her Twitter timeline is now filled with threaded arguments against HBO's proposed show, which cites both history and contemporary politics to make their point.
The #NoConfederate hashtag already had momentum heading into the 9 p.m. Eastern airing of Game of Thrones, as it rose up the trending topics. Within 10 minutes of the show's airing, it was at number one in the nation, and later earned a Twitter moment.
At times, people have suggested that Confederate would be similar to Amazon's acclaimed show Man in the High Castle, which imagines the world if the Axis Powers had won World War II. But activists say it's a false equivalency, especially given the racial disparities still plaguing the United States.
HBO has done itself no favors since the show was announced. On Wednesday, the network's president of programming took responsibility for the backlash, but said the mistake was in how the show was initially announced, not the idea itself.
"File this under hindsight is 20-20," Casey Bloys told reporters at his Television Critics Association presentation. "The idea that we would be able to announce an idea that is so sensitive, and requires such care and thought on the part of the producers, in a press release was misguided on our part … We assumed it'd be controversial. I think we could have done a better job with the press roll-out. … What we realized in retrospect is people don't have the benefit of having the context of the conversations with the producers that we had."
Bloys said that Benioff and Weiss were talented producers, and very capable of creating a nuanced series that deals with the legacy of slavery still roiling America today. Some activists weren't so sure.
HBO acknowledged the protests on Sunday, and issued a statement that will likely not do much to quell the anger.
"We have great respect for the dialogue and concern being expressed around Confederate. We have faith that [writers] Nichelle, Dan, David and Malcolm will approach the subject with care and sensitivity," the network wrote. "The project is currently in its infancy so we hope that people will reserve judgment until there is something to see."