'Dunkirk' Wins Box Office Battle for the Second Week in a Row
Somehow 'The Emoji Movie' was close behind?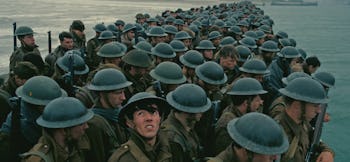 Warner Bros.
Despite nobody seeming to like it, The Emoji Movie was neck-and-neck at the box office this weekend with Dunkirk, bringing in $25.6 million in the end. The World War II movie did prevail, however, beating the animated feature for the top spot.
For the second week in a row, Dunkirk grabbed number one, making $28.1 million for a total of $102.8 million domestically so far. Directed by Christopher Nolan, the war flick already surpassed expectations on opening weekend, bringing in over $50 million. Critics have lauded considerable praise upon the film, which is being seen as a thoughtful and well-crafted reflection on the horrors of war.
The Emoji Movie, not so much. The film, which pits wacky emoji characters on a crazy adventure inside a smartphone, grabbed an eight percent critic rating on Rotten Tomatoes and a 46 percent audience score. "Please restore my eyes to their factory settings. They have seen The Emoji Movie, a new exercise in soulless branding, aimed primarily at little kids," Johnny Oleksinski wrote in The New York Post.
In other opening weekend news, Atomic Blonde trailed behind Emoji Movie and Dunkirk, making $18.5 million on its opening weekend and landing in fourth place behind Girls Trip. It's actually decent first showing for the Cold War-era action flick, but pitted against The Emoji Movie, that's gotta hurt a bit.