Tesla is Going to Triple the Number of Superchargers Worldwide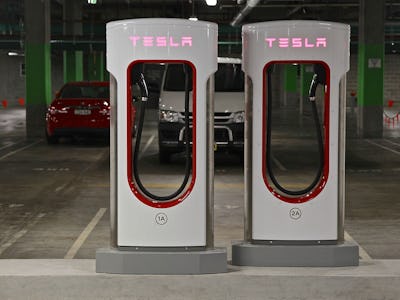 Getty Images / Ben Rushton
As Tesla Model 3s start hitting the road over the next two years, Elon Musk promises there will be more Superchargers — the plug-in electricity pumps used to charge Tesla batteries — waiting for them. Three times more, in fact.
On Friday, Elon Musk debuted the Model 3 during at the Tesla factory in Fremont, California. Before giving away 30 Model 3s to some lucky employees and their friends, Musk gave a run down of the impressive production schedule Tesla is hoping to achieve for its first affordably-priced electric vehicle. With the intention of pumping out a total of 500,000 Model 3s at an eventual rate of 10,000 cars a week, Musk said that he's aware that the proliferation of Superchargers will need to change.
"This is probably the second most common question I get on Twitter, like, 'The Supercharger is full, what is wrong with you?' 'Why are you such a huge idiot?'" Musk said with a grin.
"By the end of next year, there will be three times as many Superchargers as there are today. So that should really help out a lot."
There are currently 6,124 Superchargers around the world. By the end of 2018 there should be over 18,000 worldwide. "Eventually you'll be able to go anywhere on Earth" using the Superchargers, Musk said.
Earlier in July, Musk announced on Twitter that Tesla's supercharger network had expanded to encompass nearly the entire United States.
Of course, Teslas can already be used around the world anywhere that electricity is available; the Supercharger just allows you to charge your car faster. Superchargers add 170 miles of range in 30 minutes, whereas a home wall charger can often only add around 26 miles in that time.
Supercharger stations — located in North America, Europe, Asia and the Middle East — have multiple chargers that can all re-charge a Tesla model. So far there are 889 stations open for business.
You can watch Elon Musk talk about Superchargers and the new Model 3 below:
With additional reporting by Monica Hunter-Hart.