Comic-Con Nerds Watched a Ton of Cartoon Porn in San Diego
Surprising no one, San Diego saw a gigantic surge in porn searches for "anime big tits" while tourists were in town for Comic-Con.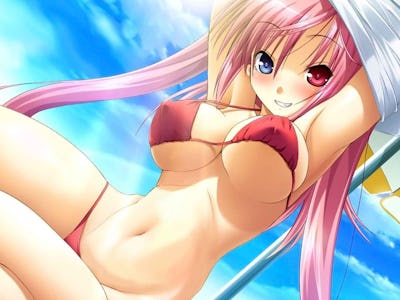 Angry Gif
Every night at Comic-Con, after the festivities were over, thousands of horny people shuffled back to their hotels, stripped off their shiny latex, removed their pancake make-up, and stretched out in bed to watch some sweet, sweet anime porn.
In fact, the amount of anime porn enjoyed in San Diego rose nearly 400% and stayed that high until all those horny geeks went home to masturbate in peace.
Animated pornography is a lot more popular than most of us want to admit. In fact, anonymous search data proves that Americans watch Japanese-style animated porn, or hentai, so often that it ranks among some states' favorite genre. "Cartoon" porn (hentai or otherwise) is one of the top ranking search terms in the United States, following up more mainstream porn genres like "lesbian" and "MILF".
As for state-by-state masturbation data, porn viewers in Nebraska, Arkansas, Tennessee, and Vermont watch "cartoon" porn more than any other genre. California, like the majority of the country, is most interested in "lesbian" porn, though when hundreds of thousands of geeks came from all over the world to attend San Diego Comic-Con, the porn data changed radically for the weekend. In fact, almost 3,000 percent more people than usual searched for "comic con" on Pornhub, and the number of people looking for the phrase "anime big tits" rose by nearly 400 percent.
By the way, when you search "comic con" on Pornhub, as an insanely huge number of people did in San Diego, you get a few videos of women in cosplay flashing their tits at the camera. There are also a couple really creepy videos of women's bodies at Comic-Con, taken, assumedly, without their permission. As for "anime big tits" (link NSFW, obviously), 1,375 animated videos pop up, some of them 2D classic anime style, and others rendered in 3D digital animation.
Surprisingly, 2017 was a bigger year among horny geeks for Wonder Woman and the Avengers than Harley Quinn, who was last year's reigning queen of geek porn fantasies. Though Axel Braun's high-production-value parody films don't pop up on free porn sites like Pornhub, they're a satisfying product for the obvious high demand at Comic-Con. It should be noted that this reporter did not see any of Braun's films advertised at Comic-Con, though it's unclear why.
As for anime porn, it's interesting to see that Overwatch didn't rank high among the search data available during Comic-Con. In 2016, searches for Overwatch porn outranked searches for "anal" in the United States, which was a huge revelation at the time. It appears that in the year that followed, Tracer and D.Va slipped down the rankings in favor of more mainstream superheroes like Wonder Woman and Black Widow.
It remains to be seen whether Harley Quinn will retake the porn crown from Wonder Woman when Gotham City Sirens hits theaters. She'll be joined by a bevy of other female superheroes and villains, all of whom are likely to capture the imaginations of horny geeks everywhere.