You'll Tragically Never Ride a Bantha at Disney's Star Wars Land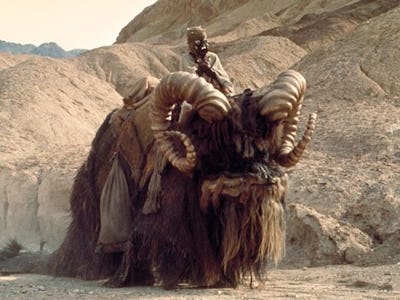 Lucasfilm
Slow, dumb, and smelly, the Bantha is a Tusken Raider's number one choice for traversing the sands of Tatooine. But, tragically, no one in our own galaxy will be able to ride one anytime soon. It turns out Disney's Star Wars Land canceled a Bantha-riding attraction before it could stand on its four stubby legs.
Star Wars: Galaxy's Edge (aka Star Wars Land), which will find homes in both California's Disney Land and Florida's Disney World, was originally meant to house three rides rather than two. Star Wars fans will soon be able to pilot the Millennium Falcon and, separately, fly into a battle between the Resistance and the First Order. But there won't be any Banthas.
According to a recent episode of "The Unofficial Guide's Disney Dish" podcast, as reported by Slash Film, guests would have ridden in a giant cage on the back of a Bantha through Star Wars land. The motley crew of creatures would have acted as a sort of Disneyland Railroad to introduce park-goers to the wonders of Star Wars Land.
But Disney abandoned the Banthas. Though, it might be for the better. Banthas probably wouldn't do too well in Florida's humid climate.
Disney's Star Wars Land is expected to open in 2019.