'Simpsons' Creator Is Making a Fantasy Cartoon For Netflix
Matt Groening is making a new show about a hard-drinking princess.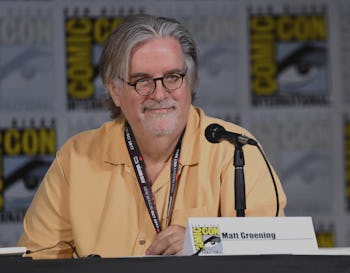 Getty Images / Mike Coppola
If you ever wondered how a female Bart Simpson would fare in Game of Thrones, you may soon be able to find out. Matt Groening, creator of The Simpsons, is bringing an animated adult fantasy series to Netflix.
Called Disenchantment, the show is set in a kingdom known as Dreamland. The main character is a "hard-drinking princess" voiced by Broad City's Abbi Jacobson. According to Groening's words on the Netflix press release, the show will be about "life and death, love and sex, and how to keep laughing in a world full of suffering and idiots, despite what the elders and wizards and other jerks tell you."
Here's the official plot description:
In Disenchantment, viewers will be whisked away to the crumbling medieval kingdom of Dreamland, where they will follow the misadventures of hard-drinking young princess Bean, her feisty elf companion Elfo, and her personal demon Luci. Along the way, the oddball trio will encounter ogres, sprites, harpies, imps, trolls, walruses, and lots of human fools.
The animation will come from Rough Draft Studios, which also animates Futurama. The series currently has a twenty-episode order — but they won't all be released at once in the platform's customary model. Instead, they'll be released ten episodes at a time.
Disenchantment will premiere in 2018.