Convoy Wants to Be the Uber of Trucking, and It Just Raised $62 Million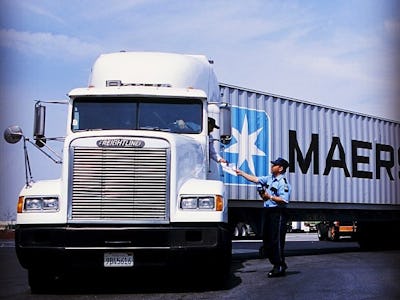 Flickr / Maersk Line
While Uber may be rudderless these days, its core business model — on demand transportation via an app — certainly isn't. Just ask Seattle start-up Convoy, the so-called "Uber of trucking."
On Tuesday, Convoy, which pairs truck drivers and cargo, announced it had raised $62 million more in funding. Among the backers are Microsoft founder Bill Gates and Amazon founder Jeff Bezos. But even with the backing of Microsoft Amazon, disrupting the over $700 billion U.S. trucking market won't be easy or quick.
Right now, trucking is a pretty old school pen-and-paper industry. There are lots of regulations to keep truckers safe, the network for communication is as sprawling as America's highway system, and getting something shipped usually requires calls up and down the chain of command.
"A huge amount of the trucking industry is these fragmented, five-truck-or-less companies," Conway investor Reid Hoffman recently told Kara Swisher on the podcast Recode Decode. "Well, the time that they spend scheduling and using cork boards and calling people and everything else is all time that they're not working."
That's why Convoy's software has the potential to up productivity — and profits. It pairs companies seeking to ship their wears with truckers ready for a gig. The whole thing's done through a smartphone app (because of course it is), which allows for pricing to be generated automatically and get engines revving in mere minutes. The platform also allows the more anxious among us to track the cargo's transit as it's happening and promises drivers payments within 24 hours of a completed trip.
"The smartphone revolution is beginning to hit truckers," Hoffman told Swisher. "… You have this whole place where the experience can be transformed. It makes a very big difference in the world."
This potential for disruption has drawn Hoffman and others to Convoy from the start, but more support will be needed for the company to grow and go toe to toe with its competitors. Right now, Convoy, which started in 2015, is up to $80 million in funding. That seems like a big sum until you consider Uber brought in $15 billion in funding since it started back in 2009, according to Bloomberg.
Sure, Uber has been recently slowed by its numerous legal problems and the departure of founder Travis Kalanick, but it's still got a head start.
Having acquired the trucking startup Otto, Uber launched Uber Freight in late 2016. Now, it's working to pair freight operations with its autonomous vehicle development, taking the automation of the fossilized trucking industry even further.