Here's Why Facebook's Smart Speaker Could Beat Amazon Echo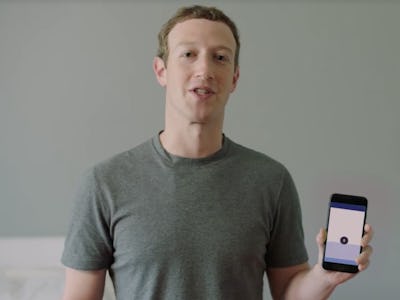 Mark Zuckerberg/Facebook
Facebook is planning to launch a smart speaker similar to the Amazon Echo, according to a report published Tuesday. The product would represent Facebook's first foray into the smart home market, and follows CEO Mark Zuckerberg's in-home experimentations with his "Jarvis" artificial intelligence.
According to DigiTimes, the speaker would set itself apart from its competitors by offering a 15-inch touchscreen. The screen would serve as the primary method of interaction, as opposed to the Echo and Google Home that depend on voice commands.
The project is being undertaken by Building 8, the company's elusive experimental lab headed by Regina Dugan, the former head of the Defense Advanced Research Projects Agency (DARPA). The lab has previously posted job listings for experts in brain-computer interface systems that can decode scans using artificial intelligence. Zuckerberg has previously
If the rumors are true, Facebook will be joining a growing marketplace. Other than the $179 Echo and $129 Home, Apple has announced plans to also launch a smart speaker powered by the Siri voice assistant. The $349 HomePod seeks to distinguish itself from its competitors by offering high quality sound. The product has a seven beam-forming tweeter array with individual drivers, precision acoustic horns, coupled with an Apple-designed woofer and automatic bass equalizer. In other words, it has a lot of audio equipment driving the sound:
Facebook has yet to dip its toe into this market, expected to be worth $5.5 billion by 2022, but its CEO has some experience of it. Last year, Zuckerberg shared an update on his "Jarvis" virtual assistant, which he built himself to control lights, play music and other tasks. The artificial intelligence is controlled via a smartphone app, and the CEO shared a number of videos of his family getting to grips with it:
Unfortunately, not everyone was impressed. "I wouldn't call it A.I. to have your household functions automated," Tesla CEO Elon Musk said in a March interview. "It's really not A.I. to turn the lights on, set the temperature."
If Facebook wants to take on the Alexas and Siris of the world, it may need something a tad more impressive.